November 29, 2021
4 min read
Challenge
The LUMA Projection Arts Festival is the largest projection mapping festival in the country, transforming Binghamton, NY into an interactive, immersive art scene since 2015. In previous years, founders Tice Lerner and Josh Bernard dealt with unreliable lamp projection technology that required significant power with minimal support from a technology partner to assist with the projectors. Continuously matched with the challenges of creating an immersive outdoor exhibit in the middle of a city filled with historical architecture, the LUMA Projection Arts Festival partnered with Panasonic in 2019 to integrate its projection technology paired with a team of experts flexible and reliable enough to work under ever-changing conditions. Following a break in 2020 due to the pandemic, LUMA's desired to return in 2021 and make a memorable comeback that could only be made possible with Panasonic's return as the exclusive projection sponsor to provide the projection mapping technology as well as the full-support required to make 2021's event captivating and  unforgettable.
Solution
To elevate the audience experience and bring the artists' visions to life, LUMA utilized Panasonic's PT-RQ22KU 3-Chip DLP® 4K+ Large Venue Laser Projectors, PT-RZ21KU 3-Chip DLP® SOLID SHINE Laser Projectors and PT-RZ31KU 3-Chip DLP® Large Venue Laser Projectors, along with a wide range of Panasonic lenses for a full projection mapping package. The projectors' imaging technology produced vividly colored active scenes rich in detail with high brightness, true color accuracy and high contrast, transforming downtown Binghamton into an exciting, immersive visual display. Additionally, the projectors' Multi-Monitoring and Control software allowed the remote control, monitoring, and live status reporting of all projector activity, while the Geometry Manager Pro software did everything from focusing, lens shift, all the way through to geometry and color matching, to ensure seamless edge blending capabilities.
Together, the joint team transformed the well-known buildings of Binghamton into state-of-the-art canvases exposing the details behind every crevice and corner of the structures, ensuring attendees were truly immersed in the artists' work.
Providing LUMA's team the time to focus on what was important, Lerner said, "I felt like, having not only a reliable projector, but also a team of experts that know these projectors inside and out, we were able to focus on the creative, and we were able to finish the festival set-up earlier."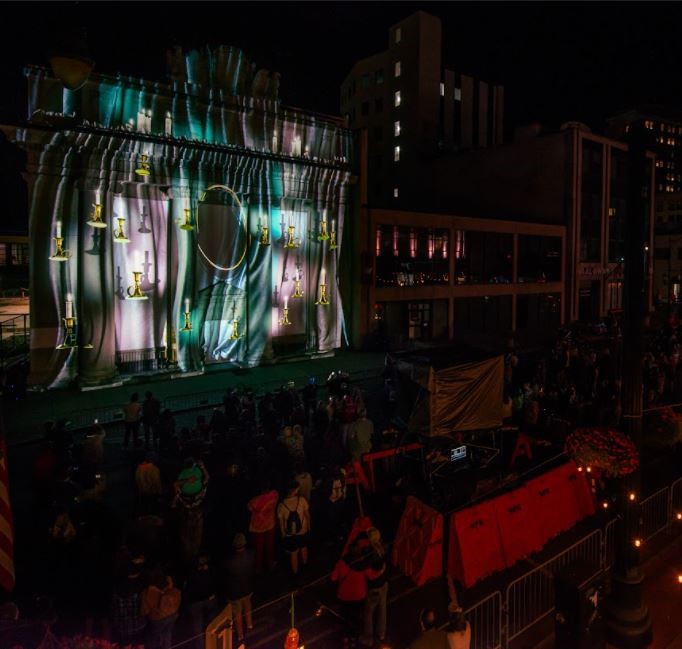 Result
Following Panasonic's introductory deployment, the 2019 LUMA Projection Arts Festival successfully attracted over 55,000 national and international attendees and sparked the ongoing partnership with Panasonic. By using Panasonic AV technologies, the LUMA organizers have continued to experience substantial decreases in energy usage, personnel hours and technical resources. Additionally, due to the compact features of Panasonic's projectors, the festival shortened its set-up time from a four-day to three-day installation process.
"Panasonic's technology and engineering support has given LUMA the ability to focus on our primary vision --- telling stories from cutting edge artists," continued Lerner. "We were able to develop a fully immersive, exceptionally visual experience for our guests.  
Transforming Buildings into a Visual Display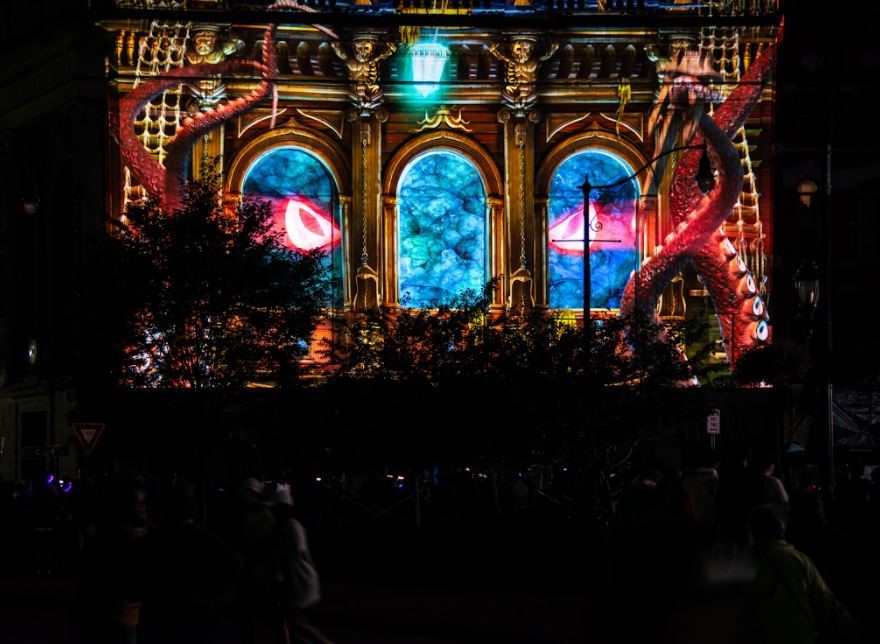 When Tice Lerner and Josh Bernard were interested in highlighting the emerging arts scene in Binghamton, NY, they wanted to do so in a way that couldn't be found regionally, or even nationally within the U.S. Rooted in transforming urban environments into an artistic canvas, Tice and Josh took an all-encompassing approach to bring the Binghamton community together – artists, volunteers and attendees alike – and founded LUMA Projection Arts Festival in 2014. Critical to supporting this vision was a AV technology partner who not only provide top-quality projection solutions, but could also seamlessly integrate themselves with the festival's IT staff. 
"When we first started looking for projection mapping partners, I didn't think we could get a full team from Panasonic to provide hands-on support because we hadn't been provided that level of service working with other vendors. I'm thrilled to say I was wrong," said Bernard. "Panasonic's team truly became part of our community as we planned, prepared and executed the event. They understood every aspect of what we were trying to accomplish, any potential issues we may experience during the event and what needed to be addressed to ensure the picture was as sharp and color-accurate as possible. All of our technicians – many of whom aren't full-time projectionists – sang Panasonic's praises, marveling at the technology and the projectors, but also the expert support they provided."
Across eight different buildings for the 2019 and 2021 shows, Panasonic's large venue 3-Chip DLP® SOLID SHINE laser projectors brought the LUMA Projection Arts Festival to life. From the wide color spectrum to the flexibility and reliability of Panasonic's projectors, the LUMA team completed the installations with pride. When working a live event, the need to eliminate uncertainties is a must. So, Panasonic's consistent color and high-brightness levels were extremely important to negate all visual discrepancies, especially while working in an unpredictable, weather-challenging outdoor environment.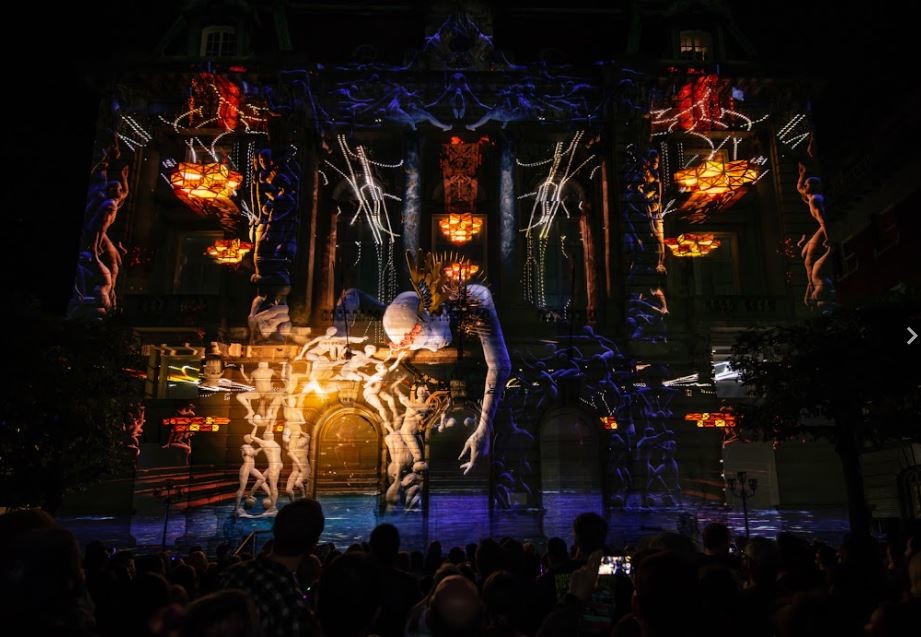 "The biggest advantage of using Geometry Pro is that you've got the advantage of the full power of the software that Panasonic built into the projectors. That gets you maybe 30- to 50 percent of the way there, so by the time you're entering the mapping software, you're dealing with the fine details of getting the animation to fit," said Lerner.
Every year the LUMA team sets out to create top quality content and cutting-edge exhibits that are more advanced and engaging from the year prior. "Working with Panasonic gave us access to a great caliber of technology and enables us to take LUMA's level of projection mapping to the next level every year," said Lerner.
For more information about Panasonic Imaging & Visual System, please visit: https://na.panasonic.com/us/audio-video-solutions.
For more information about LUMA Projection Arts Festival, please visit: