February 7, 2023
4 min read
An artist's work has traditionally been confined within four walls. In the modern day, projection mapping turns the walls themselves into a living canvas for creatives to paint upon. With a groundbreaking number of immersive art experiences every year, AV technology forms the foundation of this exciting new medium of entertainment.
Immersive storytelling is now an accessible reality. These experiences serve as a conduit for not only bringing people together but surrounding them in multisensory environments to evoke unique emotions, thoughts, and ideas. As consumers demand more compelling and dynamic content from immersive experiences, creators and organizations leverage AV technology such as projection mapping solutions to find new, innovative ways to pique the interest of audiences and encourage communal engagement.
Here are a few recent events where Panasonic Connect played an integral role in bringing art to life.
LUMA Projection Arts Festival
Each year since 2015, in Binghamton, NY, LUMA has given artists the freedom to transform a historic city into an immersive visual, storytelling experience. With Panasonic's high-brightness, high resolution laser projectors, lenses and projection mapping technologies, artists bring their passions to life on the canvas of the city's architecture. 
While projection is normally associated with delivering images to flat surfaces, projection mapping overlays images onto any variety of 3D surfaces, no matter the shape or geometry. In a projection-mapped environment, the artists rely on visuals and sound to convey their message. These projections can be as subtle as indoor stage effects or as grand as beautiful video content displayed onto unique architecture — and at LUMA, it is always the latter.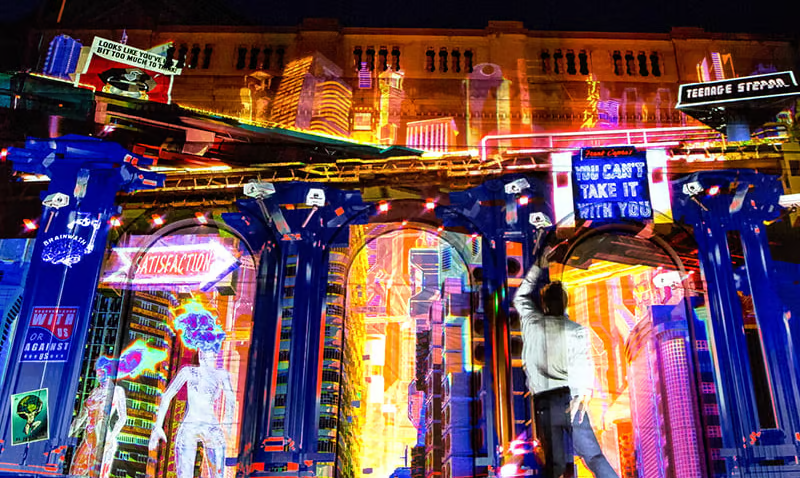 LUMINEX 2.0: Projected Realities
At LUMINEX 2.0: Projected Realities, artists stunned thousands of attendees with thought-provoking digital artwork, illuminating the contrast between projections and realities. The projections were displayed on architectural facades, such as wrap-around buildings and even large blocks of ice, all within a five-block radius of Downtown Los Angeles. 
The experience leveraged Panasonic's large venue 4K laser projectors and their embedded geometry mapping technology, showcasing 12 internationally acclaimed artists. LUMINEX 2.0 immersed guests in an outdoor walkable experience while at the same time illustrating the healing power of art.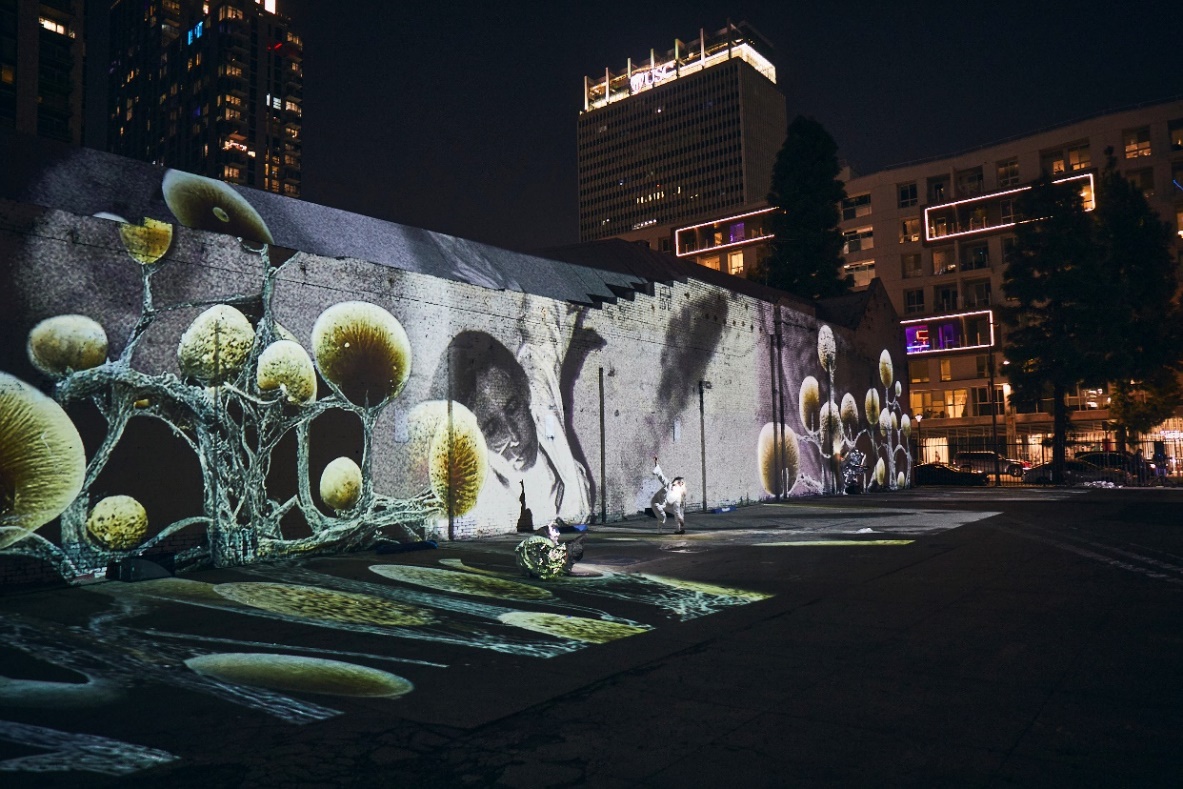 "Unwrap the Magic" at Beverly Hills City Hall
From November 17, 2022 to January 1, 2023, Beverly Hills showcased its "Unwrap the Magic" holiday-themed projection mapping spectacle on the historic Beverly Hills City Hall Tower. NewMedia Creative Technology Studio, based out of Spain, introduced a new 3D technology for 3D projection mapping utilizing Panasonic Connect's high-brightness 4K laser projectors. NewMedia pushed the boundaries of 3D projection mapping by delivering eye-popping, interactive 3D content with more than 73 million pixels, 240,000 lumens and surround audio — the perfect formula for one of the most beautiful holiday shows. 
Between each seven minute show, the audience could interact with the exhibit using a tactile kiosk. The kiosk allowed the audience to choose between 13 holiday scenes to be displayed on the tower, using Panasonic's projection technology.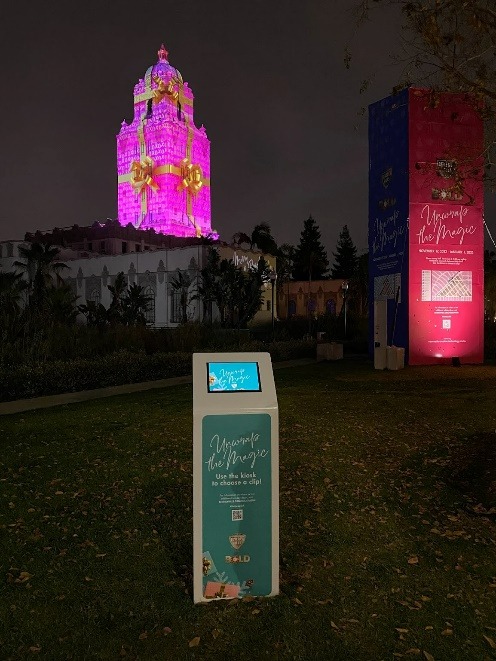 Let's Glow San Francisco
A once bustling city, San Francisco experienced a major decline in commuters as offices transitioned to remote and hybrid environments. To bring life and excitement back into San Francisco's financial district during the holiday season, Panasonic Connect, A3 Visual and Downtown SF partnered to create a spectacular projection mapping event, Let's Glow SF. 
Panasonic's 18 high-brightness, high-resolution PT-RQ35K 4K Laser Projectors immersed viewers in holiday-themed scenes. The result was stunning, eye-catching visuals across the curves and crevices of the buildings. This not only created a more vibrant downtown holiday season but also successfully supported many local businesses by drawing the public back to the financial district. All the featured art was created by local and international artists to create a truly spectacular immersive experience. Combined with music, this triumph of AV technology integration helped the beautifully laser projected artworks transport event goers into another dimension.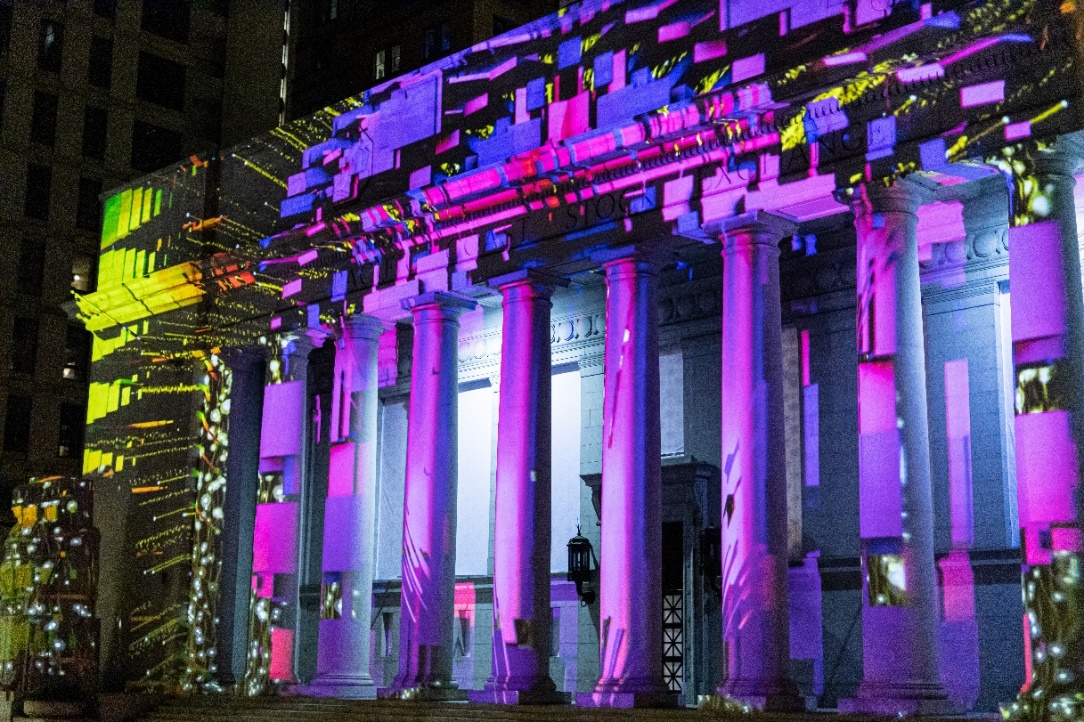 Projection Mapping Unlocks New Artistic Futures
Immersive experiences are part of Panasonic Connect's DNA. We're proud to partner with the industry's most influential artists and to be at the forefront of shaping the future of digital experiences. This year, we'll continue to see growth in immersive environments as communities, artists and groups look to bring their creativity to life.