November 8, 2023
13 min read
Live event production is a complex undertaking. It takes expertise, attention to detail, and high-performance equipment to capture and deliver audio at the right time and at the right quality to audiences who might be a few dozen feet away — or halfway across the country.
These challenges vary with the type of production. The location of the shoot is one factor, as is the location, size, and volume of the intended audience. Do you need to project your video locally on large-format IMAG commercial displays? Do you need to stream the event at the same time? Will it be a multi-camera live production? What kind of subject will you be filming? How active and animated will they be? All of these things will affect your final setup decisions.
This guide offers advice on what to look for when considering components for your live production equipment portfolio and insights into how Panasonic Connect's unique end-to-end ecosystem of audio-visual hardware and software can help support your needs.
Projectors
Vibrant projected imagery amplifies an event into something truly stunning. That's where Panasonic Connect's digital projectors come into their own. Our HD projector options can transfer images from our high-quality cameras in total fidelity. Whether you're looking for large venue projectors that will render larger-than-life IMAG images to a live audience at the event or projection mapping options to totally transform a space, Panasonic has you covered.
Some considerations to keep in mind when choosing a digital projector for your live production include:
Image quality
Brightness
Portability
Setup and use requirements
Reliability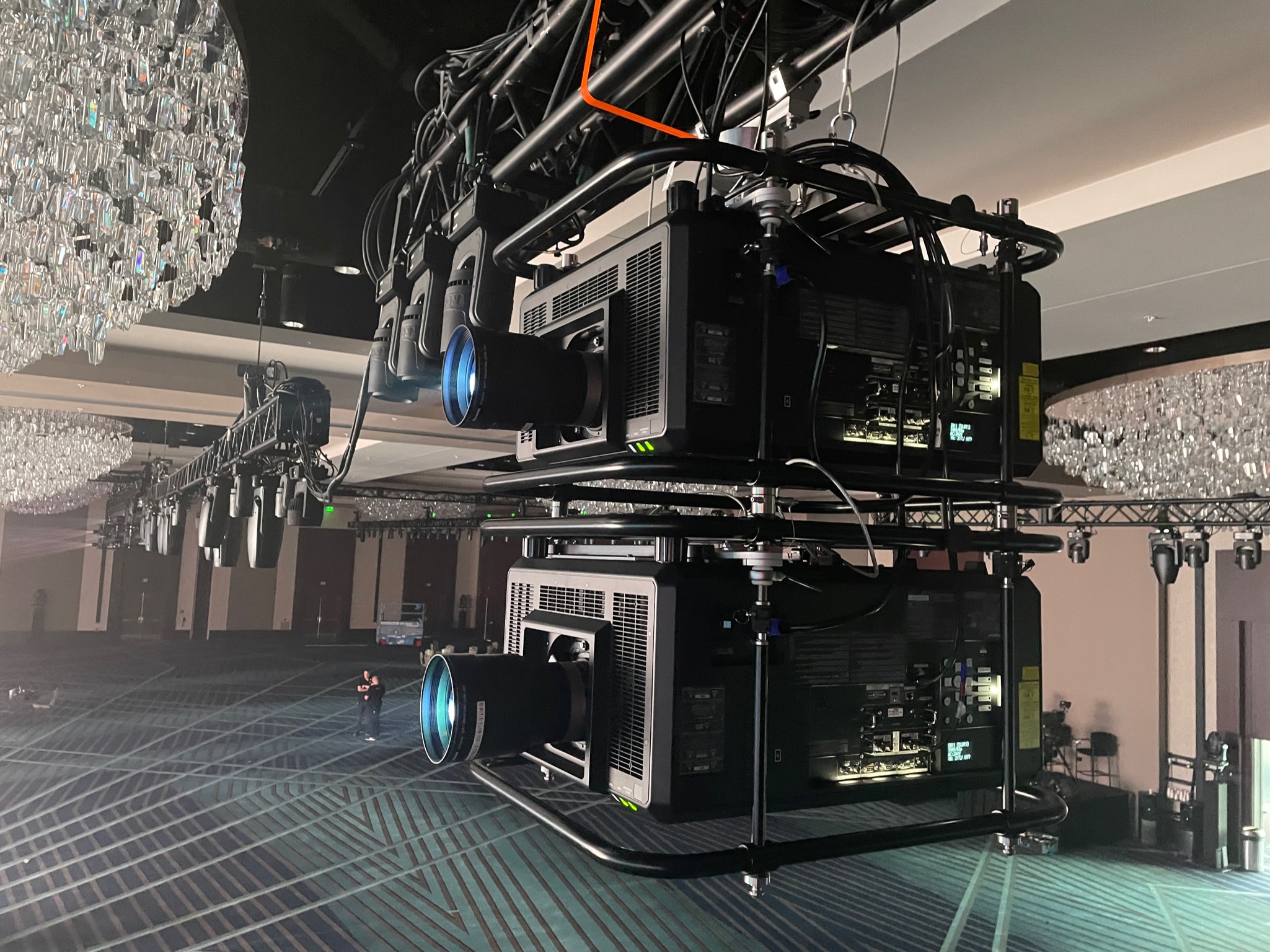 Aim for high image quality
HD projectors have revolutionized projection options for live events. A 1080p projector will serve many production teams' needs, especially for smaller venues. But for truly crisp imagery, we recommend a 4K projector to do your event justice.
For the most exceptional quality, choose a laser projector. These devices offer several advantages over traditional projection systems. They use a more focused solid-state laser light beam to produce sharper and more detailed images, resulting in less image distortion, especially when dealing with larger outputs. They are also renowned for their accurate color and high contrast in large venues, thanks to their use of discrete LEDs for each color channel.
Invest in enhanced brightness
3-chip DLP projectors deliver more brightness than 1-chip DLP projectors because the multiple chips enable them to output more light. With 50,000 lumens of brightness, laser projectors are even more powerful, creating crisp images even at outdoor daytime events.
This factor was especially important for Panasonic Connect customer Princess Cruises, which used our PT-RQ50K SOLID SHINE laser projector to enhance its live on-board entertainment productions. The high-definition imagery and dazzling brightness from this video projector created a truly immersive display for its audiences.
Determine the importance of portability
Your venue will affect your projector choice for your live event. For example, Princess Cruises was working in a tight space on what amounted to a floating theater. The PT-RQ50K proved to be an excellent theater projector, with a compact design that made it easy to transport and install in the available space.
Consider simplicity of setup and ease of use
An easy setup is about more than just size. Laser projectors' color accuracy makes it easier to match colors from double-stacked professional projectors that combine their images for massive displays. Production agency Sardis used this to great effect by combining multiple 3-chip DLP projectors for 20 by 80-foot images. Sharp professional displays made edge blending fast and easy for dramatically shorter setup times.
Other features to look for include the ability to preview images in standby mode to avoid disrupting a production space. If your technicians are working with a remote video production team, Panasonic's Remote Preview feature enables coordinated configuration workflows easier.
Look for reliable solutions for tough environments
Consider laser projectors for tough environments where there's no room for downtime. Their single solid-stage light source typically has a longer lifespan than bulbs and doesn't dim over time.
Lamp-free operation in some large-format projectors also means maintenance-free operation for 20,000 hours, while state-of-the-art cooling systems and heat-resistant mechanisms keep equipment stable and problem-free.
For demanding live production environments where there is no chance of a redo, look for a redundant projector design. This gives you double the reliability, so you need never worry about consistent operation at critical moments.
Audio and Microphones 
Audio technology is a critical part of any live production, from music events to live-streamed lectures. Institutions are integrating advanced audio capabilities into conference rooms and auditoriums to support live production in every environment. Panasonic Connect has a full range of wireless microphone options for scenarios from corporate boardrooms to the classroom.
Here are some features to consider as you plan the sound component of your live production program.
Camera integration
Audio management
Use case requirements
Sound quality
Achieve easier operations and better experiences with seamless camera integration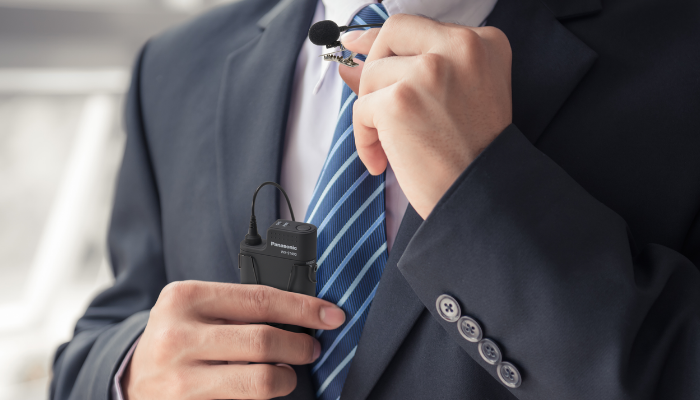 Today's microphones are smarter and more connected than ever before. Panasonic's wireless microphones now integrate seamlessly with our video equipment to create an end-to-end audio-visual experience that can make life easier for operators and deliver better ROI.
The best example of this is a software integration that allows Panasonic wireless microphones to trigger presets on our full suite of point, tilt, and zoom (PTZ) cameras. The SF300 software plug-in for our PTZ control center software allows cameras to track speakers around the room using voice input from wireless microphones, providing seamless, realistic experiences for remote attendees. We offer a similar voice-triggered tracking feature for Sennheiser mics, focusing on stage environments.
Improve event audio with simpler management 
Audio innovations can also improve live productions such as meetings that involve multiple fixed speakers. Conference mode manages up to six microphones paired on a single channel, enabling operators to control them from a central point.
Choose the right mic for the job
Panasonic offers a range of wireless microphones designed for clarity in live production environments. These include the WX-ST700 boundary microphone, which is optimized to pick up dialog from two people. The WM-KG645 gooseneck microphone offers directional single-person vocal pickup. Lavalier microphones offer the advantage of mobility, enabling speakers to move around effortlessly in the space.
Always be ready to deliver top-quality sound
DECT 1.9GHz wireless communications keep audio crystal clear, communicating between microphones and antennas that can be placed around the outside of a room and connected back to a central receiver via CAT 5 cable. Power isn't a problem thanks to the WX-SZ600 charging station, which charges multiple wireless microphone transmitters simultaneously and has a network port for remote monitoring.
Cameras
Panasonic Connect has spent years building camera options that provide total coverage. Our innovation goes beyond just the image. Factors critical to effective setup and operation include: 
Shot quality and coverage
Remote and robotic control
Auto-tracking software
Image quality
Connectivity

Capture the shot every time
Pick cameras that can hone in on sufficient detail for your live event with high-resolution high-zoom lenses. When Florida State University's Florida Channel upgraded the cameras that it used to film sessions in the state legislature, it chose Panasonic's UE150 PTZ camera with a 20x optical zoom.
Multiple camera options enable full coverage from wide-angle down to handheld shots. When Oak Creek Assembly of God church upgraded its camera system to cover live events, it installed two UC4000 studio cameras to capture wide-area shots, while two UE150 PTZ cameras picked up shots from other angles. A separate handheld CX350 professional camcorder enabled operators to capture action from onstage, while two UE4 cameras captured audience action.
PTZ cameras enable multiple-shot coverage, maximizing flexibility and ROI for live production.
Invest in remote control for better ROI
Remote control options for cameras improve your ROI by giving operators central control of multi-camera production systems. This feature reduced operator overhead for the Florida Channel as it coordinated shots around the state Capitol from a central point.
At Panasonic Connect, we go beyond PTZ camera functionality with robotic jigs from our partner organization, Tecnopoint. These allow our cameras to move through multiple axes using remotely controlled columns and dollies.
This combination of PTZ camera manipulation, zoom focus, and smooth robotic scrolling enabled TEDxCambridge to capture presenters up close and personal on stage using a Panasonic UE150 PTZ camera mounted on a Tecnopoint robotic system.
Keep PTZ cameras focused on the action with auto-tracking software
Our auto-tracking software uses machine learning algorithms to help each PTZ camera recognize and track faces and bodies around a room. This enables live event production teams to capture higher-quality shots than operators can achieve using the mouse, especially for fast-moving, unpredictable subjects.
This feature was especially useful for event production agency Cramer when working with an unpredictable subject whose dancing would change with each shot. Auto-tracking saved time and money in shot set-up by minimizing rehearsal time.
Leverage state-of-the-art systems for superior image quality
Some event productions demand the highest quality images possible. That's why the AW-UE150 that TEDxCambridge used features high dynamic range (HDR) in 4K to deliver crisp, vibrant images.
Consider lighting options when choosing your broadcast camera. The AW-UE150's sibling camera, the AW-UE160, features a new 4K one-inch sensor for clear images in challenging lighting conditions.
Enjoy simple, fast connectivity
Camera connectivity to switches is an especially important consideration in multi-camera event productions, where network bandwidth and switch capacity might be an issue. Panasonic broadcast cameras support SMPTE ST 2110, a connection that delivers crisp, clear images with a lower bandwidth than older standards. NDI support also delivers audio, video, and data along a single Ethernet cable for lower-budget productions.
Displays
Digital signage solutions are an excellent way to deliver all types of information during your event. They can even help increase operational efficiency and decrease costs. 
Panasonic Connect offers a Complete Digital Signage Solution incorporating hardware, software, accessories, and services to create an end-to-end custom set-up-and-go experience. Digital display options range from small to gigantic. From single-screen digital signage through to multi-panel video wall displays, we have your live video production event covered. You can choose from a range of digital screens, including high-resolution 4k display signage, to support every scenario while maintaining quality in each pixel.
Flat panel displays come in both landscape and portrait formats in an array of sizes to suit your needs. You can also enhance your display capabilities with our range of add-ons, including mounts and media players.
Features to keep in mind when selecting a display solution include:
Management and monitoring software
Device service offerings
Durability
Suitability for the specific use case
Networked functionality creates a cohesive fabric of content
Panasonic's ecosystem manages your content from event production through to professional display. Our Content Management Software empowers customers to manage and synchronize audio, video, and animated content across multiple platforms, getting it to digital displays across your organization as needed. Our monitoring software also checks the health of the displays across the network so that you'll never be left with a dark screen again.
Unlock the full value of our display technology with a rich set of service offerings
When purchasing digital displays and other signage, be sure that you're also purchasing the service portfolio that you need. Panasonic's team can help you design your digital signage setup, including the placement of digital displays and the networking solutions to integrate them seamlessly. We can handle installation and offer maintenance support.
Durability is key
Durability is a top consideration when considering the placement of your displays. This is especially true when displays are located in high-traffic areas or in outdoor spaces.
Displays support a wide range of use cases
Digital displays can relay audio and video originally captured during live event production for extra visual appeal in a wide variety of environments, including houses of worship, schools, corporate settings, and retail stores.
Houses of Worship
HOW digital signage can provide information and directional guidance to visitors, while also relaying live video production to those outside the main worship hall during especially popular events. Houses of worship are often interested in expanding their audiences to more sites, prompting them to install digital displays at satellite locations that relay both prerecorded and live event production worship sessions from the main site.
Schools
High schools, colleges, and universities can all take advantage of sophisticated digital signage solutions that assist with wayfinding and emergency alerts. They are also excellent for live streaming esports and other college events to different locations on campus.
Corporate Settings
Companies frequently use Panasonic's digital signage solutions to share company information, including daily events and meeting room schedules. They also enable interactivity around corporate buildings or campuses, supporting high-resolution video conferencing. Digital displays are perfect for relaying live or prerecorded video to different sites from conferences and other corporate events.
Retail Stores
Retail organizations can inspire and attract shoppers with the latest product videos and information, featured on crisp 4K displays. They can even relay live demos across their stores to maximize interest in their products.

Live Production Switchers
Event production needs more than top-quality cameras and microphones to capture live performances. It also requires a central point of control that allows producers to mix and manipulate a range of different inputs into a polished final product. That's where video production switchers like Panasonic's KAIROS come into play.
Key considerations when sourcing a production switcher for your live event production include:
Management
Connectivity
Remote work capabilities
Functionality
Scalability
User interface
Reliability
Simpler management for smoother event production
When producing a busy live event, there's little time to react and no margin for error. KAIROS is an IP-based live production platform, meaning that it uses the best in modern transport and processing protocols . In addition to production switching it provides multiviewing, graphics, clip storage, and audio mixing. It also supports functions such as tally, remote operating panels, and camera control.
This simpler IP-based management was critical for full-service event production company GlobeStream Media, which uses KAIROS for remote production of live-streamed college sports broadcasting events. KAIROS supports the company's multi-camera production needs via a single dashboard.
World-class connectivity for easy integration
Whether the inputs are SDI, compressed streaming, or SMPTE ST 2110 IP, KAIROS' open architecture enables it to integrate easily with third-party equipment. It also supports multiple I/O and video formats for direct input and output of different signals without conversion for unparalleled input/output flexibility.
Remote capabilities for event production from anywhere
Not all event production equipment or staff need to be on-site. KAIROS supports remote operation thanks to its native IP integration, enabling users like full-service production company LiveX to move between studios at will, the company said.
LiveX uses every feature in its KAIROS platform to create polished live-streamed productions. This includes its layer-based content creation, composition, and color correction capabilities. KAIROS supports unlimited scenes and layers for complex video production. The platform offers multi-screen operation, making it easier for producers to manage complex multi-camera event production. It can also produce video in unconventional aspect ratio formats without a multi-screen processor. KAIROS also features high-performance, low-latency processing thanks to its GPU architecture, ensuring perfect lip-sync and the ability to drive IMAG imagery on large and non-standard dimension displays.
Easily expandable to grow with your live production projects
Building a production control room is an investment in future event production. It's important that a platform is able to expand with you as the scale and sophistication of your productions grow. That's why Panasonic Connect built KAIROS with scalability and upgrades in mind. Customers can add new features, along with multiple control surfaces, as their needs change.
2023 also saw the release of powerful KC200 and KC2000 Core mainframe KAIROS hardware that supports larger, more complex productions. The KC200 is a mid-range unit with a 50% increase in video processing performance over the KC100, and more I/O capabilities. The high-end KC2000 offers twice the number of inputs and outputs than the previous highest-end model, the KC1000. It also offers a 30% increase in video processing performance, along with more internal capacity for storing and playing video.
KAIROS enhances the user experience
When producing a busy live event, there's little time to react and no margin for error. That's why KAIROS offers both a traditional hardware control panel for TDs accustomed to other production switchers and a software UI driven with a touchscreen or keyboard and mouse that very approachable for users who are more familiar with graphics or AV production tools. Snapshots and macros can be quickly triggered to automate sequences of actions that provide high production value.
Network redundancy supports reliable operation
Live event production is the worst time for the network to go down. If an outage to the switch would cause you any inconvenience, then opt for the new Panasonic KAIROS Cores. Their IP compatibility enables them to support redundant network operation in a way that wasn't possible with incumbent SDI standards. Their 2022-7 network redundancy routes audio and video over multiple network connections to keep event production running if one link fails.
Production Software
Software is at the heart of Panasonic's event production solutions. It connects an ecosystem that reaches from our KAIROS production switchers out to the cameras and microphones that feed its inputs. Together, it creates a streamlined end-to-end experience encompassing easy set-up and advanced functionality.
KAIROS software and hardware go hand-in-hand in cutting-edge production environments. With hardware providing raw power, KAIROS software interface offers maximum configuration to match production needs.
Key features of Panasonic Connect production software include:
Range of production capabilities
Ease of use
Fast set up
Support for various broadcast protocols
Access a range of creator features
The KAIROS Creator Software that lies at the heart of our production switcher system features support for macOS, making it familiar to thousands of professional creatives across the country. Its easy access to features, including color correction, shot playback, graphics editing, layers, and transitions, are key for many live event production companies. LiveX, for example, used the software to effectively manage productions remotely, reducing the number of people on set.
Easily handle complex live productions with pre-set workflows
Maximizing user productivity is a key factor for event production companies. The pre-set workflows in KAIROS software enable even non-technical crews to handle complex live productions with ease. It also accelerates the training process for staff, reducing their time to productivity.

Make field equipment more functional
Our production software also serves tech teams outside the central control room, making it easier to set up and use field equipment. For example, Panasonic's EasyIP Setup tool for the AW-UE40 PTZ camera enabled GlobeStream Media to set up fast, easy video streaming from the sports field back to a remote production room, where it could live-switch the show using the KAIROS production switcher.
Similarly, the Geometry Manager Pro software built into key Panasonic projectors made set up a snap for Sardis when using seamless large-format multi-projector images.
Support for broadcast protocols
Panasonic Connect production software supports real-time, high-quality video feeds including Real Time Transport Protocol (RTP), Real Time Messaging Protocol (RTMP), and Real Time Streaming Protocol (RTSP). GlobeStream Media used these to stream content back to a central site for remote production.
The Secure Reliable Transport (SRT) protocol also supports 4K/60p video streaming, offering companies like LiveX stable transmission of high-quality video, even in unstable network environments. It's a great option for streaming video back to a central production studio from a remote event.
Create Polished Live Events with Panasonic Connect
Production companies, corporations, and venues are already using Panasonic Connect's event production solutions to level up their content and inspire new audiences. Used together, our equipment can take live production to new heights.
Panasonic gives you the power to constantly amaze audiences by introducing new features into live events when you're ready to enhance the sophistication and quality of your event production. Talk to us about how we can help you craft a custom ecosystem that will serve your audiences now and long into the future.