April 4, 2023
4 min read
This Q&A series discusses the future of live video production and broadcast through conversations with innovators leveraging Panasonic's KAIROS platform.
GlobeStream Media is a full-service production company delivering innovative and engaging livestreaming, event AV, and video production services to companies and organizations of all sizes. The company recently partnered with USA Softball to livestream the GOLD National Championships. To deliver high-quality visual content for at-home viewers and streamline the remote production process, GlobeStream turned to Panasonic's KAIROS platform.
Why is it important for you to have access to the latest broadcast technologies?
It's important for us to keep a pulse on industry needs and the best solutions to meet those needs, which as we all know, are constantly changing. Having access to the latest broadcast technologies allows us to deliver the most visually stimulating and engaging video content to customers and their in-person and virtual audiences. If we're not holding the audience's attention, we're missing the mark. That's why we've adopted Panasonic's solutions.
Which Panasonic solutions are you leveraging? How are you using them?
Most recently, we worked with USA Softball to livestream the GOLD National Championships using technology from Panasonic Connect. For the preliminary games held in Mustang, OK, we set up four AW-UE40 4K/30P Ultra Quiet PTZ Cameras across four fields, each camera set up behind home plate and remotely managed. During the preliminaries, there was a single production tech on-site to set up the cameras and manage any technical issues. Cameras were connected to a bonded-cellular router, with the video streamed via SRT back to our control room in Dallas, where we added a score bug and then streamed the games live through USA Softball's web site.
During the 16U and 18U tournament finals at OGE Field at the USA Softball Hall of Fame Sports Complex in Oklahoma City, we setup three AG-CX350 4K Handheld Camcorders (high-home, first base, and third base), as well as three AW-UE40 4K/30P Ultra Quiet PTZ Cameras (center field and one for each dugout). We leveraged the SRT streaming capabilities of each camera to send high-quality video feeds from the stadium in Oklahoma City back to the KAIROS KC100 IP platform in our Dallas control room. When combined with KAIROS' integrated support of camera tally and camera control over IP, this remote integrated production workflow allows us to streamline multi-camera event coverage.
With the EasyIP Setup Tool Plus on the AW-UE40, we were able to manage the cameras on each field with limited staff. That allowed our production team to devote their attention elsewhere, and it simplified our processes on the backend. The on-site camera operator connected the Panasonic cameras via ethernet to send the feeds back to our control room, where we could live switch the show using KAIROS.
What drew you to KAIROS?
GlobeStream Media has been involved in producing live content for quite some time. When we looked into expanding our capabilities to support sports production, we knew we wanted a livestreaming platform that could support and ingest feeds directly. KAIROS does just that through its support of Secure Reliable Transport (SRT) protocols, which gives us added flexibility for bringing in and controlling how video feeds are used. Another reason we were drawn to KAIROS is because of Panasonic's scalable, integrated IP ecosystem which supports camera control and camera tally over IP. This is critical for us in remote production because it enables a wide range of cameras, including the AW-UE40 and AG-CX350, to be easily integrated into one control environment. This is huge. Lastly, the MacOS support for the "KAIROS Creator" software is a gamechanger for us because it's easy to use, integrates seamlessly into our Mac-based production environment, and gives us the creativity to add layers, transitions, and much more to our productions.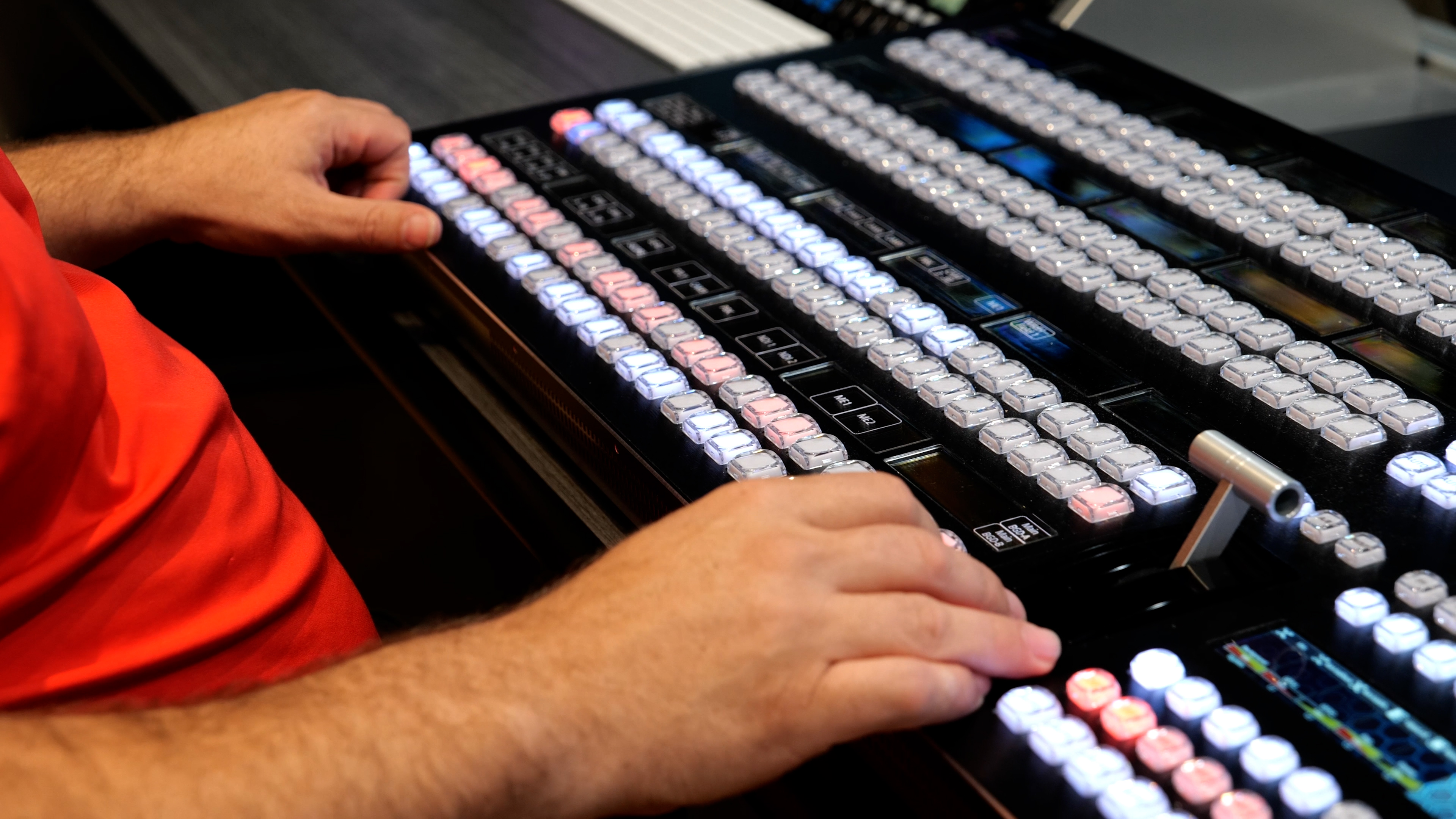 Looking back at the GOLD National Championship, what was the biggest advantage to integrating KAIROS into the production process?
The biggest advantage of integrating KAIROS was being able to produce a high-quality livestream. This brought more visibility to the 16U and 18U athletes being recruited for college programs and gave coaches across the nation a platform to watch players compete. KAIROS also streamlined workflows tremendously. The platform is compatible with various input and output signals that make receiving and distributing feeds a breeze. The SRT protocol is supported for superior stability and security of transporting feeds, and KAIROS also supports Real Time Transport Protocol (RTP), Real Time Messaging Protocol (RTMP), and Real Time Streaming Protocol (RTSP). Each of these protocols work together to ensure audio and video transmission are achieved at a low latency and in real-time.
What impact do you see a solution like KAIROS having on the broader sports broadcasting industry?
I believe KAIROS will have a wide-ranging impact on sports broadcasting because it represents a significant leap forward in live production. From a technology standpoint, it seamlessly integrates current baseband technologies such as SDI and HDMI with IP technologies such as SMPTE-2110, SRT, and NDI, bridging current and next generation broadcast systems. From a creative standpoint, KAIROS' software-based paradigm breaks the hardware shackles of traditional M/E switchers, giving technical directors the freedom and creativity to design more engaging viewer experiences. Lastly, from an operations standpoint, KAIROS' integrated IP-based ecosystem supports not only advanced audio and video transport technologies, but also integrates camera tally, remote operating panels, camera control, PTZ controllers, and more, truly enabling modern REMI workflows across a single platform.
There's no question that offerings such as KAIROS from Panasonic Connect stand at the forefront of broadcast technology, and clearly demonstrate that the company has one of the most comprehensive visions for live production in the industry today.
How do you plan to use KAIROS in future projects?
In April 2023, we will be using KAIROS and a wide range of Panasonic's cameras to live stream USA Hockey's National Championships, which will include over 500 games at multiple venues across the US.
Beyond sports production, KAIROS is at the core of our high-end offerings for corporate and live event production. We've used KAIROS to cover concerts, conferences, fundraising events, sales kickoff events, and a broad range of virtual experiences. With advanced features like source substitution, KAIROS provides us with the ability to implement challenging production solutions easily, including having a single technical director switch multi-lingual broadcasts.
We're looking forward to continuing to leverage the breadth of capabilities within KAIROS to exceed our customers' expectations and deliver new and exciting experiences for their audiences.