January 22, 2020
5 min read
Challenge
In its fifth year, LUMA Projection Arts Festival is the largest projection mapping festival in the country, transforming Binghamton, NY into an interactive, immersive art scene. In previous years, founders Tice Lerner and Josh Bernard dealt with unreliable projection technology and a technological support team that wasn't quite able to immerse themselves into the LUMA community. Matched with the challenges of putting on an outdoor exhibit in the middle of a city, the team needed projection technology and a team of experts flexible and reliable enough to work under ever-changing conditions. With the desire to captivate and wow attendees with bright, colorful art installations, these LUMA organizers needed to rethink which visual technologies would let both the installations and Binghamton community shine.
Solution
To ensure both artists' and the LUMA co-founders' visions were realized, 30 of Panasonic's large venue 3-Chip DLP® SOLID SHINE laser projectors were installed throughout Binghamton to transform well-known buildings into eight state-of-the-art projection mapping feats. Panasonic's team of technical experts were also onsite to help LUMA's staff of local IT employees install, position and calibrate the laser projectors, offering training and hands-on support throughout the installation process.
Result
Following Panasonic's deployment, the 2019 LUMA Projection Arts Festival successfully attracted over 55,000 national and international attendees. Even with the increased attendance, when using Panasonic technologies, the LUMA organizers noticed substantial decreases in energy usage, personnel hours and money spent. Overall, the total amount of energy used per projector was 50 percent less than previous years. Additionally, due to the compact features of Panasonic's projectors, 32 percent lighter and 46 percent less volume, this smoothed out the three-day installation process, which in previous years took at least four days to complete. Finally, with PT-RZ31KU projectors high-quality features and by delivering 30,000 lumens of brightness, on one specific installation the team was able to decrease the number of projectors used from six to three. All in all, the LUMA Projection Arts Festival organizers were able to setup significantly easier while maintaining a smaller carbon footprint in the process.
Art with Something to Say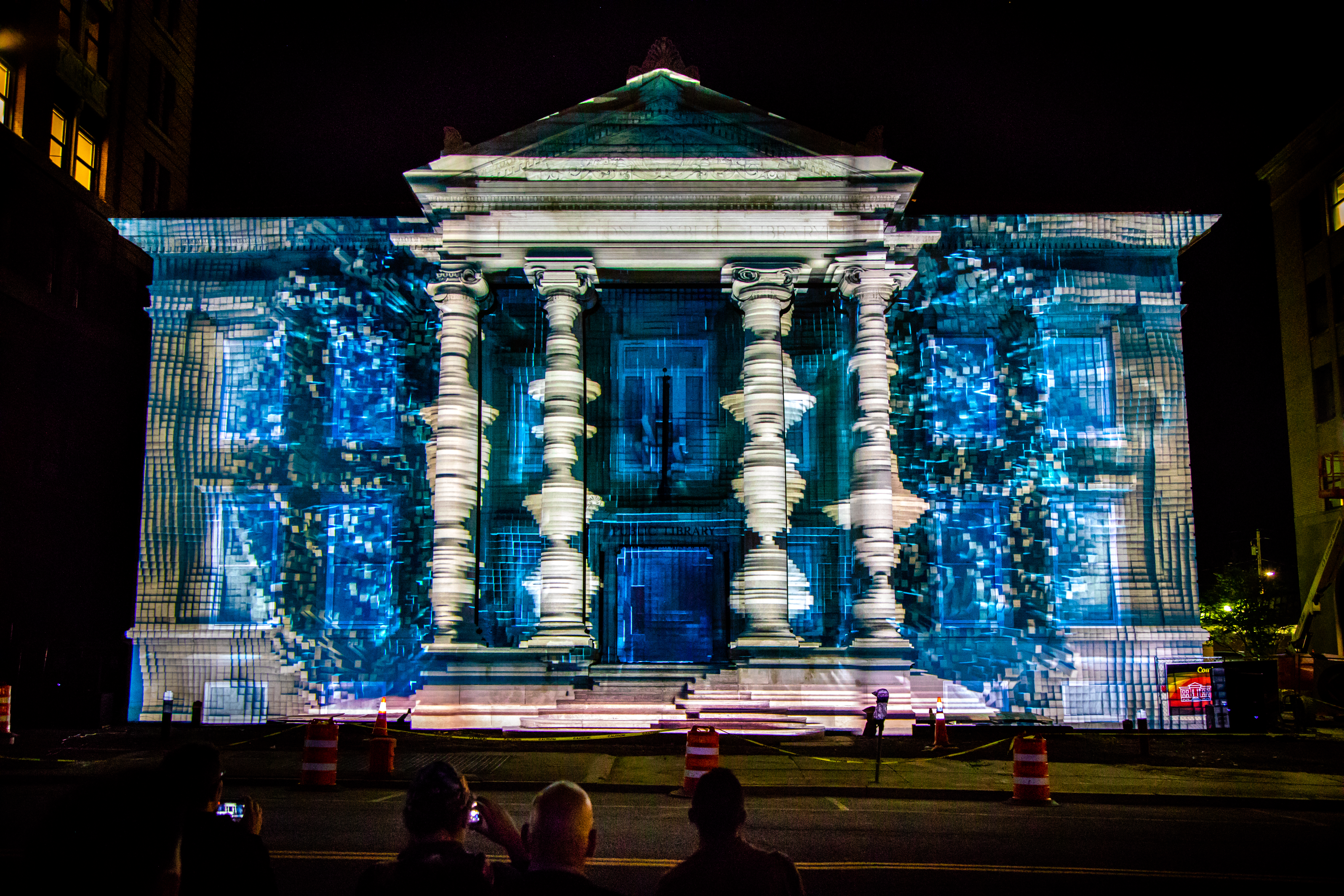 When "tech geeks," Tice Lerner and Josh Bernard were interested in highlighting the emerging arts scene in Binghamton, NY, they wanted to do so in a way that couldn't be found regionally, or even within the U.S. Enter projection mapping, a technology that was gaining popularity, but hadn't been used to the magnitude Tice and Josh had in mind: transforming an urban environment into an artistic canvas.
Founded in 2014, LUMA Projection Arts Festival takes an all-encompassing approach to bring the Binghamton community together, not only as attendees, but also as artists and behind-the-scenes volunteers who help stage the event. That is why it was extremely critical for any visual technology partner to not only provide top-quality projection solutions, but also integrate themselves into the community through seamless interactions with the festival's IT staff, who had limited projection mapping experience.
"When we first started looking for projection mapping partners, I didn't think we could get a full team from Panasonic to provide hands-on support because we hadn't been provided that level of service working with other vendors. I'm thrilled to say I was wrong," said Josh Bernard, co-founder. "Panasonic's team truly became part of our community as we planned, prepared and executed the event. They understood every aspect of what we were trying to accomplish, any potential issues we may have during the event and what needed to be addressed to ensure the picture was as sharp and color-accurate as possible. All of our technicians – many of whom aren't full-time projectionists – sang Panasonic's praises, marveling at the technology and the projectors, but also the unmatched support they provided."
Across eight locations, 30 of Panasonic's large venue 3-Chip DLP® SOLID SHINE laser projectors brought the LUMA Projection Arts Festival to life. From the wide color spectrum to the flexibility and reliability of Panasonic's projectors, the LUMA team could complete installations with pride. When working a live event, the need to eliminate uncertainties is a must. So, Panasonic's consistent color and high-brightness levels were extremely important to negate all visual discrepancies, especially while working in an inflexible, weather-challenging outdoor environment.
"We were able to develop this fully immersive, exceptionally visual experience with very few technological hiccups," said Tice Lerner, co-founder. "The projection enhanced the installations so much so, it delivered art with something to say."
Operational Excellence with Projection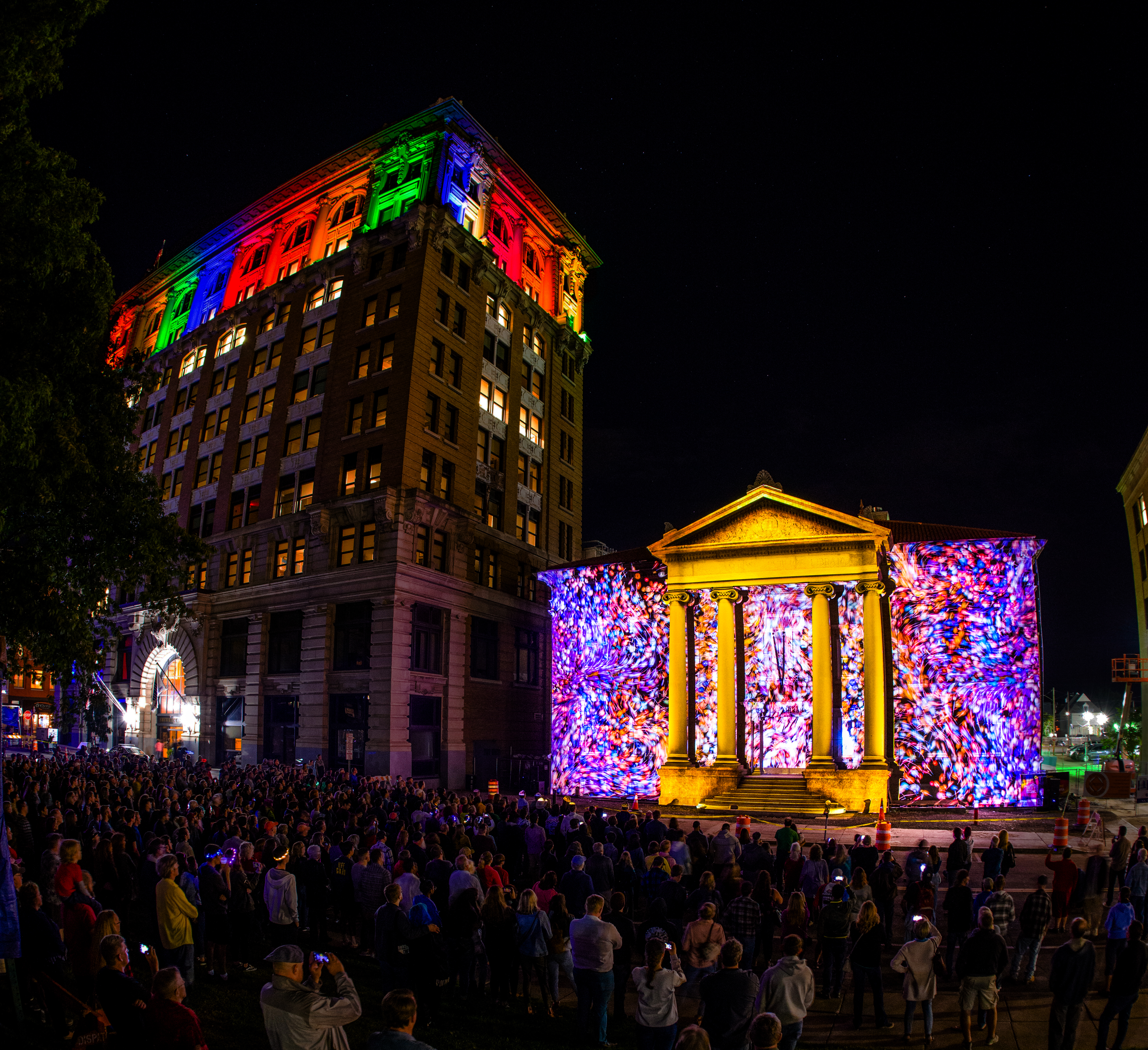 Aside from achieving best-in-class visuals, the LUMA Projection Arts Festival also realized significant energy and cost savings as well as precious installation set-up time.
By using Panasonic's projectors, the team was able to cut energy usage by 50 percent, reducing approximately 4,000 watts of energy per projector down to approximately 2,000 watts per projector.
The Panasonic projectors were 32% lighter, making the entire installation process much easier and most importantly, a lot safer.
Projectors were smaller, taking up around 46% less volume than previous years reducing our footprint. Using the PT-RZ31KU allowed us to drop the number of projectors on the Awakening site from 6 to 3 making the setup significantly easier with a smaller foot print.
The technology, matched with the Panasonic support team, allowed the team to work ahead of schedule even when working in unpredictable weather conditions within the confines of the city's infrastructure. 
"Not only were we ahead of schedule, but working with Panasonic gave us a greater sense of professionalism to get to work with this caliber of technology and see the level of perfectionism with these projectors" said Lerner. The projectors used onsite, as compared to the models used in previous years, afforded a reasonable and easier set up to this year's festival. Set-up time in 2018 was approximately completed in 4 days, right up to the last minute. By using Panasonic projectors, along with their technical support, a 25% improvement was realized, completing set-up in 3 days.
With the goal of top quality and cutting-edge exhibits, the founders ask the contributing artists to "step it up every year," according to Lerner and Bernard, "and this year, we were able to step things up and take the festival to the next level by using Panasonic laser projectors."
For more information about Panasonic Imaging & Visual System, please visit: https://na.panasonic.com/us/audio-video-solutions.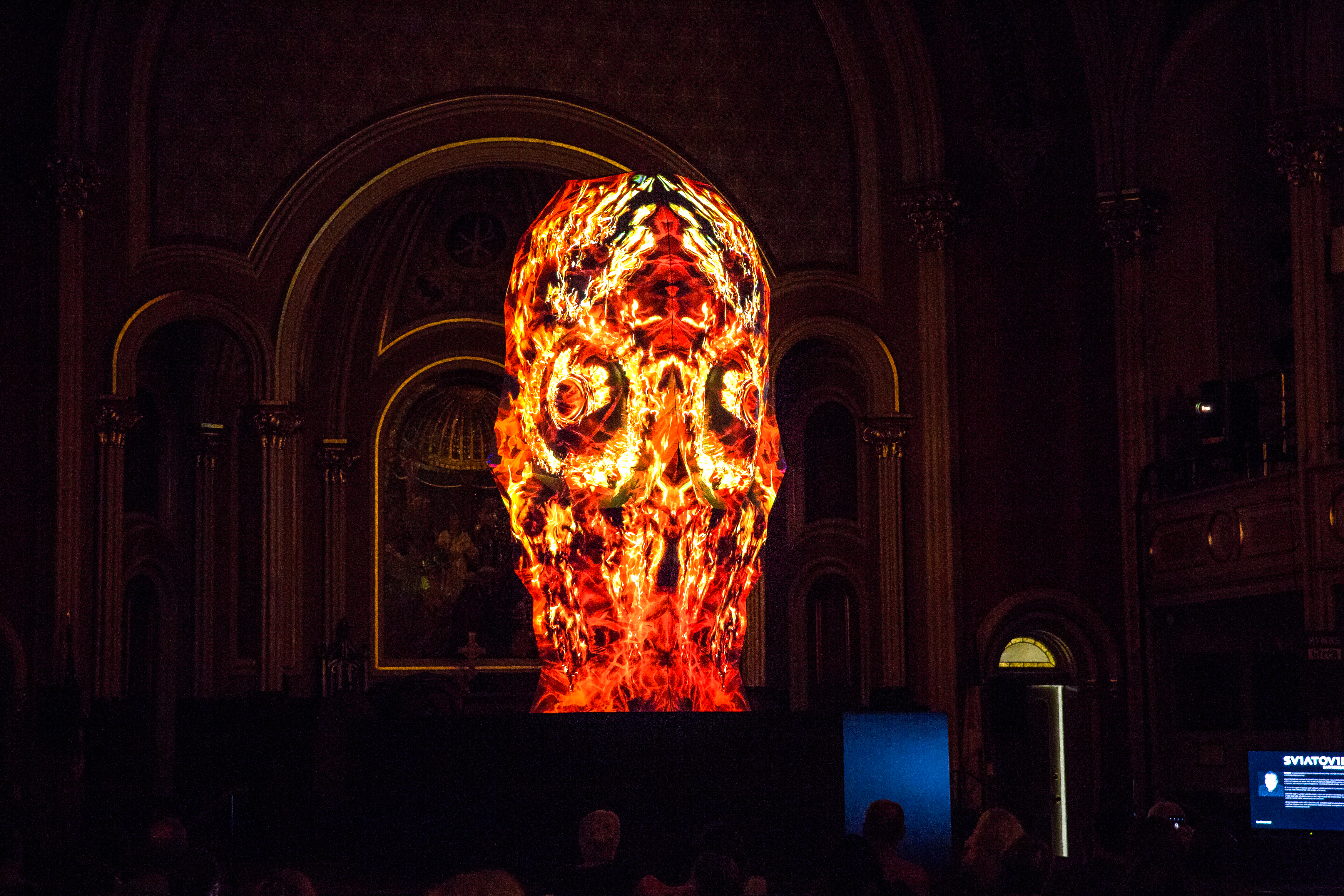 For more information about LUMA Projection Arts Festival, please visit: