August 2, 2023
3 min read
Live sports streaming is big business, especially as more fans choose to support their teams from the comfort of their own home. Here's how one production company helped to deliver high-quality live-streamed content.
GlobeStream Media is a full-service production company delivering innovative and engaging livestreaming, event AV, and video production services to companies and organizations of all sizes. When GlobeStream Media collaborated with USA Softball to live-stream its GOLD National Championships, they sought to produce high-quality visual content that would make at-home viewers and recruiters feel as if they were present at the games in person. 
For the preliminary games held in Mustang, Oklahoma, GlobeStream set up four Panasonic Connect AW-UE40 4K/30P Ultra Quiet PTZ Cameras across four fields – each camera set up behind home plate and remotely managed. During the preliminaries, there was a single production tech on-site to set up the cameras and manage any technical issues. Cameras were connected to a bonded-cellular router, with the video streamed via SRT back to their control room in Dallas, where they added a score bug and then streamed the games live through USA Softball's website. 
The IP Platform
During the 16U and 18U tournament finals at OGE Field at the USA Softball Hall of Fame Sports Complex in Oklahoma City, GlobeStream set up three Panasonic Connect AG-CX350 4K Handheld Camcorders (high-home, first base, and third base), as well as three AW-UE40 4K/30P Ultra Quiet PTZ Cameras (center field and one for each dugout). They leveraged the SRT streaming capabilities of each camera to send high-quality video feeds from the stadium in Oklahoma City back to the Panasonic Connect KAIROS KC100 IP platform in their Dallas control room. When combined with KAIROS' integrated support of camera tally and camera control over IP, this remote integrated production workflow allowed GlobeStream to streamline multi-camera event coverage.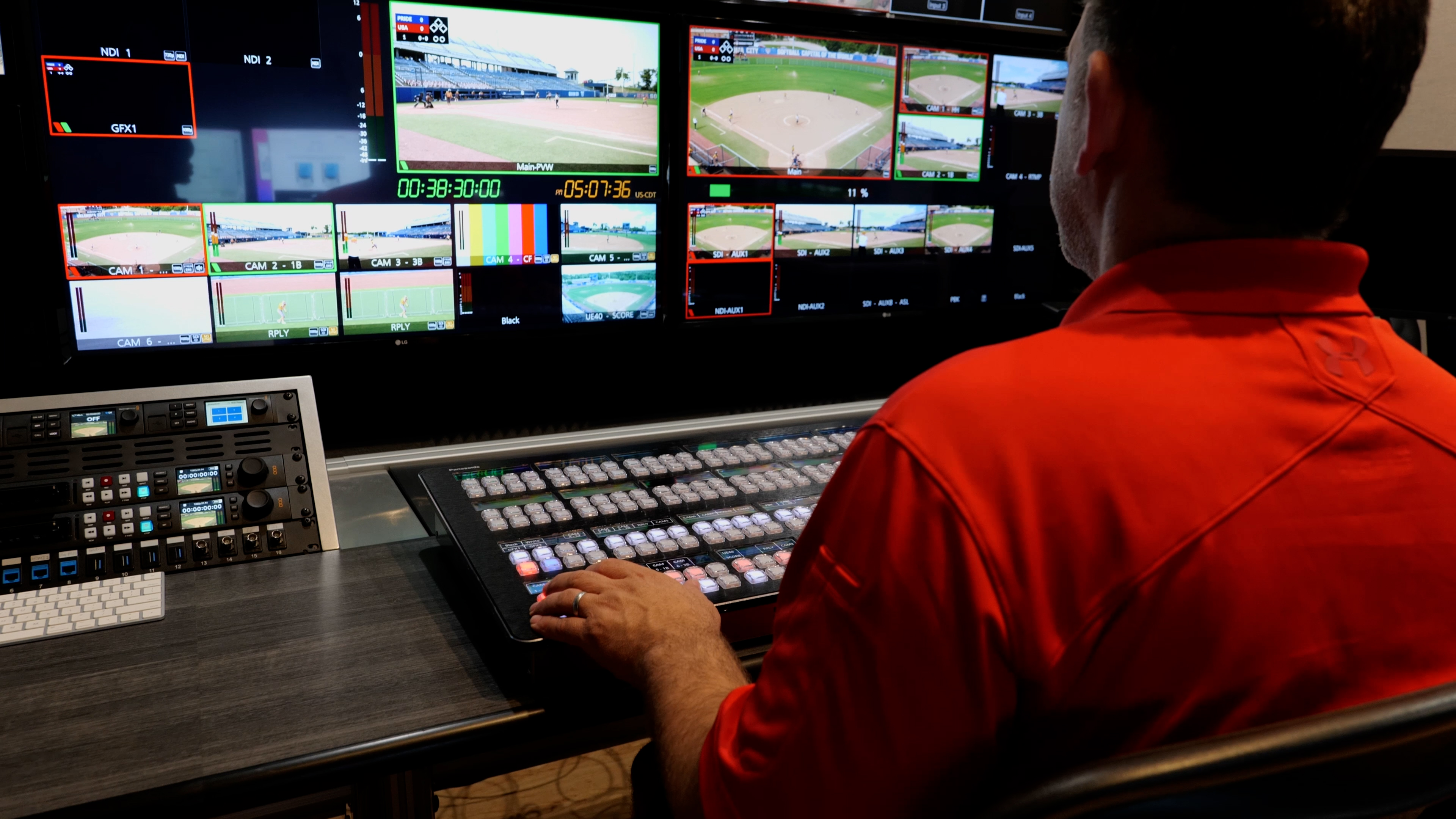 With the EasyIP Setup Tool Plus on the AW-UE40, they were also able to manage the cameras on each field with limited staff. This allowed their production team to devote their attention elsewhere, and it simplified the processes on the backend. The on-site camera operator connected the Panasonic cameras via Ethernet to send the feeds back to the control room, where they could live-switch the show using KAIROS.
The biggest advantage of integrating KAIROS was being able to produce a high-quality live stream. This brought more visibility to the 16U and 18U athletes being recruited for college programs and gave coaches across the nation a platform to watch players compete. KAIROS also streamlined workflows tremendously. The platform is compatible with various input and output signals that make receiving and distributing feeds a breeze. The SRT protocol is supported for superior stability and security of transporting feeds, and KAIROS also supports Real Time Transport Protocol (RTP), Real Time Messaging Protocol (RTMP), and Real Time Streaming Protocol (RTSP). Each of these protocols work together to ensure audio and video transmission are achieved at low latency and in real-time.
This article was written by AV Technology Staff from AV Network and was legally licensed through the Industry Dive Content Marketplace. Please direct all licensing questions to legal@industrydive.com.