September 13, 2023
5 min read
At first glance, Binghamton is an unassuming city in upstate New York with a population of just under 50,000. However, in 2015, a street photographer, a film editor, and an event planner saw the city's potential for something more. With the help of projection mapping technology, they imagined a Binghamton that was transformed into an immersive event where art and technology would meet to create jaw-dropping results.
That was the birth of the LUMA Projection Arts Festival. Since then, it has grown to become one of the country's premier projection mapping festivals. This year, partnering exclusively with Panasonic Connect and using several models of Panasonic's large venue 3-Chip DLP® laser projectors, the festival was again a hub of technological innovation, artistic expression, and creative vision that left attendees with an unforgettable experience.
From September 8 to 9, Panasonic Connect helped the incredible artists of LUMA transform eight venues across Binghamton into unique storytelling experiences. It was a celebration of projection mapping, visual storytelling, and audacious creativity.
Projection Mapping Remakes a City into a Creative Canvas
What makes LUMA special is how it allows artists, creative designers, and other mixed media professionals to think big. With the city as their playground, there are nearly no limits as to where their imaginations can go.
But turning historical buildings and classical architecture into usable canvases is no easy feat. Panasonic Connect's array of digital projectors, lenses, and projection mapping technology were the tools that allowed these artists' visions to come to life.
Of course, transforming the city's architecture into usable displays was only one of many challenges: 
The mix of audio and visual elements led to complex artistic visions that needed to be executed at the highest level multiple times over the course of the live event production.
With the changing weather conditions throughout the weekend, the team required projectors that wouldn't disrupt any of the exhibitions.
Energy consumption had to be minimized and costs needed to be kept at a reasonable level.
Local IT employees needed to be able to install, position, and calibrate all outdoor projectors to ensure high quality throughout the festival.
Without a doubt, the LUMA Projection Arts Festival has become a Binghamton staple of art, architecture, and community. And, rain or shine, LUMA continues to exceed expectations and bring the community together. By working closely with Panasonic Connect, LUMA's staff was able to meet all these challenges again this year. Some of this year's festival highlights included:
Maxin10sity Uses Laser Projectors to Journey Across Our Infinite Horizons
Four large columns frame the entrance to the SUNY Broome Culinary and Arts Center at 78 Exchange Street. Using three PT-RZ21 laser projectors and three 75DLE20 lenses, projection mapping company Maxin10sity transformed these columns and the building behind them into alien landscapes in the exhibition "Infinite Horizons."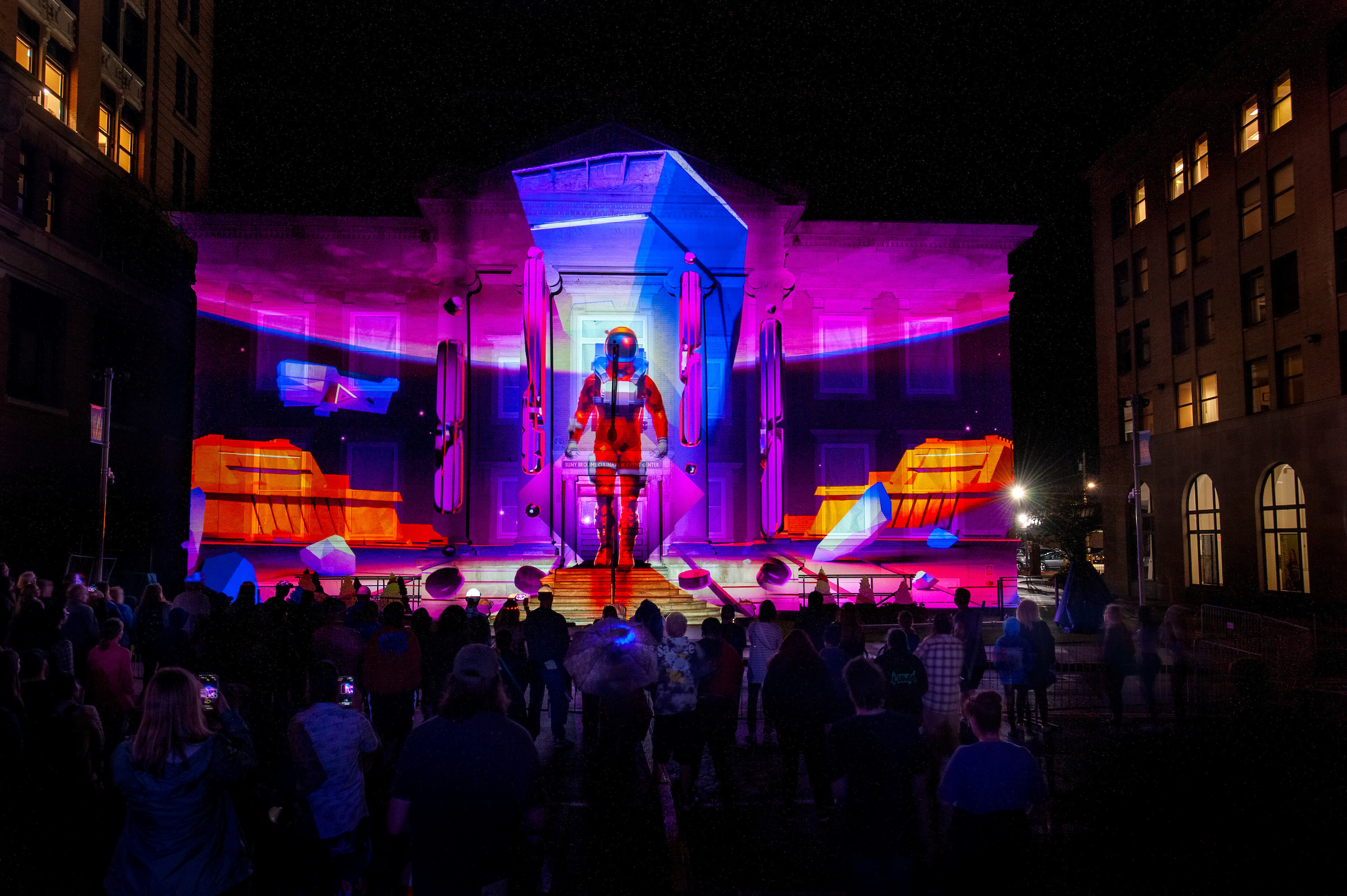 Photo credit: Van Zandbergen Photography
In "Infinite Horizons" attendees were invited on a playful journey that explored humanity's dreams of cosmic conquest. The guide through these unfamiliar spaces is an astronaut making constant strides across ever-changing worlds. His interstellar journey, dynamically synced to music, continues apace, leading us to question where this exploration will end and what secrets await us when we arrive at our final destination.
Yann Nguema Explores a New Perspective on Projection Mapping in Second Nature
49 Court Street is a building with a story to tell. In Yann Nguema's "Second Nature," that story takes the shape of a visual poem that is a ballet of light and lasers.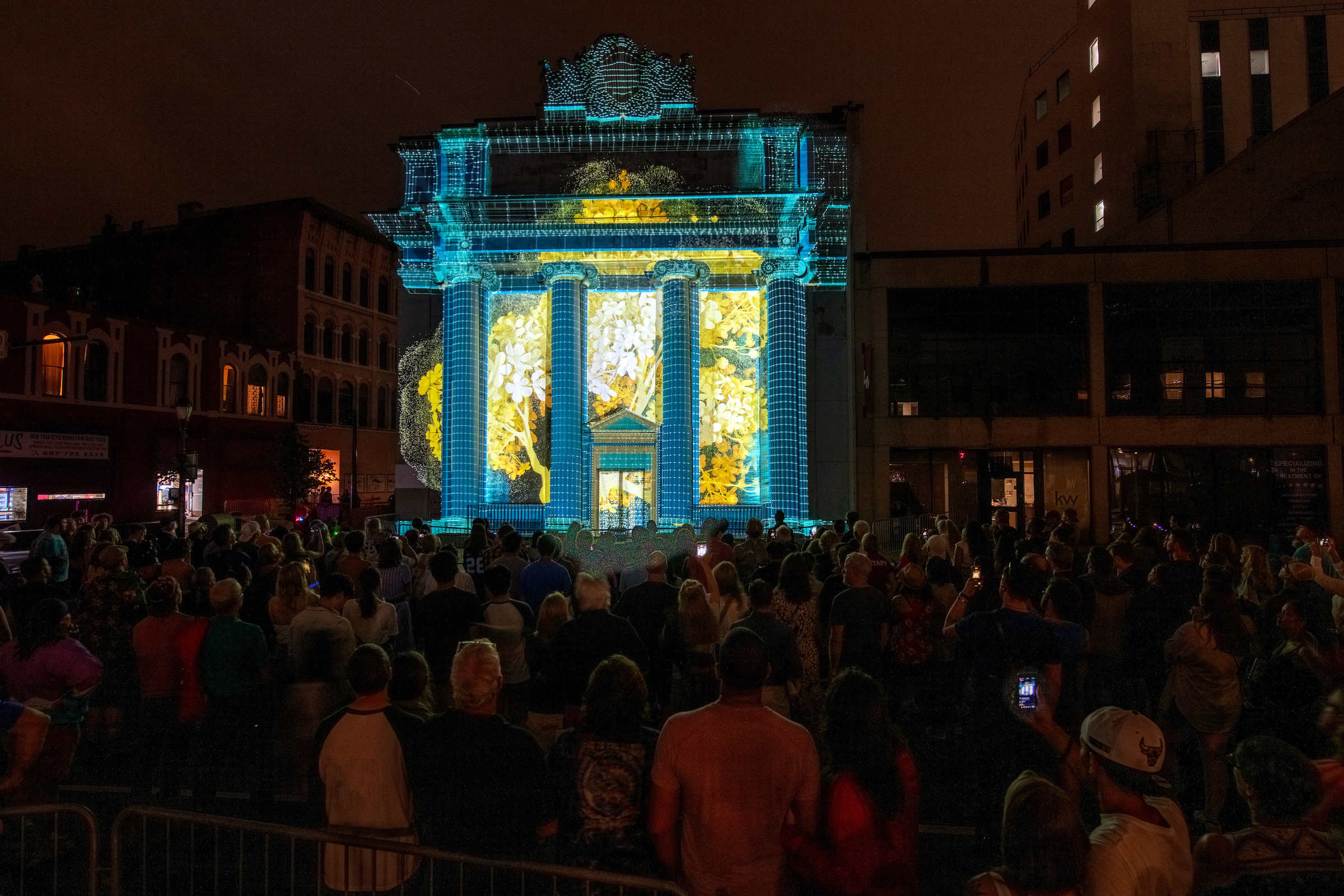 Photo credit: Van Zandbergen Photography
Using four PT-RQ22 4K Solid Shine projectors and four D75LE6 lenses, Nguema blends architecture and algorithm in visionary ways. Utilizing the world's smallest and lightest 20,000-lumen-class 4k+ projector to illuminate the architecture of a traditional, historical building is just the start of how Nguema marries the past and the future. The masterful use of light and lasers creates a compelling narrative that leaves the audience questioning how modern innovation can exist in tandem with historical grandeur and the possibilities of projection mapping itself.
Glitch Creates a Living Monument With 4K Projectors in Re-Naissance
95 Court Street is right in the bustling center of Binghamton. At this location, Court Street becomes a busy roundabout surrounded by historic buildings. But, on the weekend of September 8th and 9th, another monument suddenly appeared: Glitch's "Re-Naissance," the solid stone monument that is at the center of the exhibition "Re-Naissance."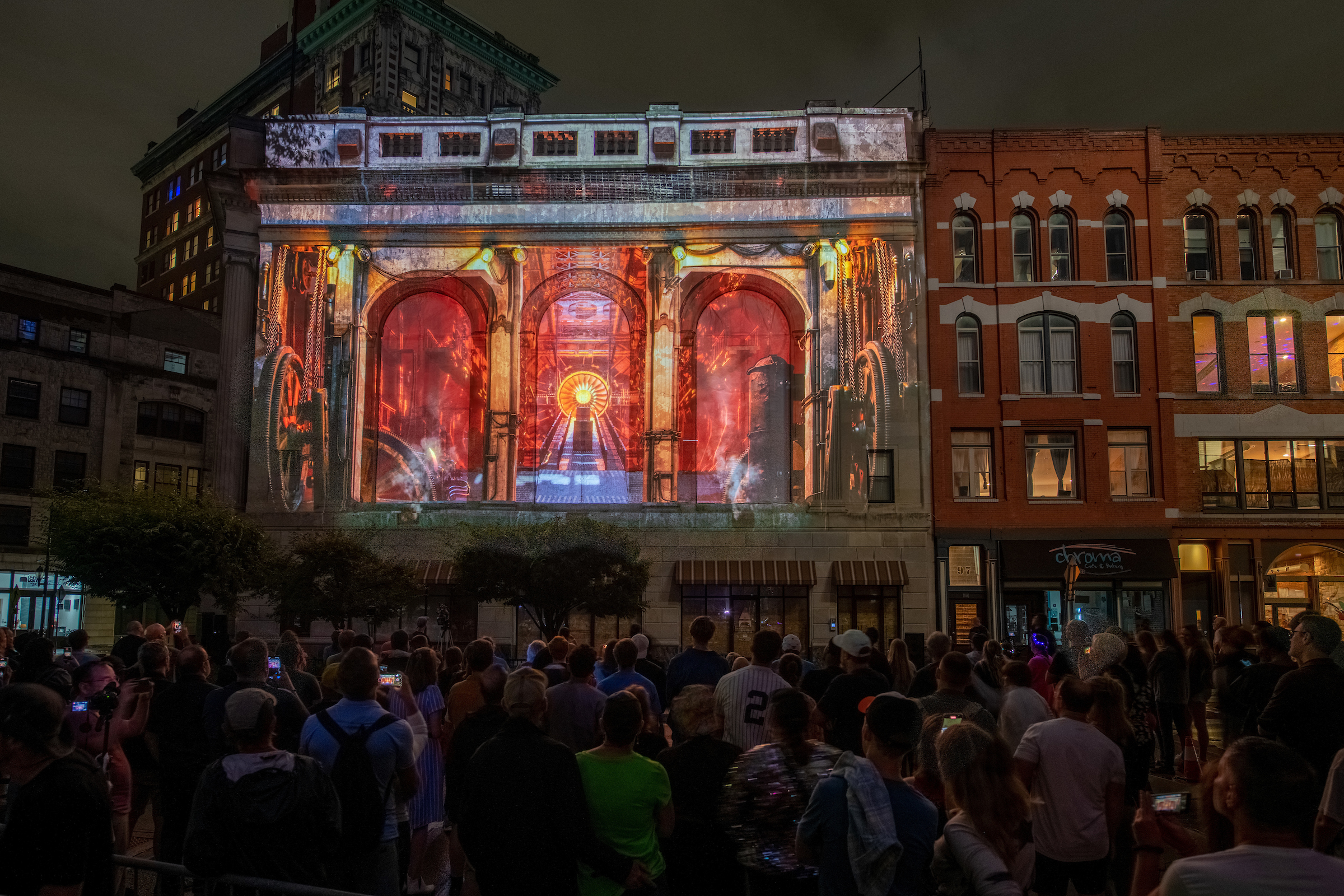 Photo credit: Van Zandbergen Photography
To create this exhibition, three PT-RQ35KU 3-Chip DLP™ 4K Large Venue Laser Projectors and three D75LE20 Lenses were deployed. The laser projectors not only brought the statue to life but also the narrative surrounding it. Attendees witnessed the stone's journey through time, from the dawn of civilization to the rise of modern skyscrapers. As the world changes around it, it's clear that this monument is more than just a stone witness to history; it is a living entity, symbolizing the very pulse of life and evolution.
Many Exhibitions Highlight the Versatility of Projection Mapping Technology
The 2023 LUMA Projection Arts Festival offered so many stunning visuals and compelling narratives across Binghamton that showcased the potential for projection mapping and art: 
At 65 Hawley Street, artist Los Remeras brought together visual storytelling, architecture, and jazz in a dazzling display entitled "Light Session." A perfect blend of colors and shapes enhanced the music, leading to a big-band finale that was as awe-inspiring to listen to as it was to gaze upon.
Artists Mindscape and Snow Raven invited their audience to become entangled in their "Web of Life" at 65 Hawley Street. Snow Raven's haunting vocals accompanied a narrative that explored how all life is interconnected. Stories focused on individuals, communities, and animals to show the full tapestry of life through the lens of Arctic Siberian Sakha culture.
"Peg Johnston Living Lights Project" at 196 State Street was an open invitation to all artists to explore their creativity and become a part of the festival. Artists could contribute using whatever forms they were most comfortable with and the results were projected onto building facades during the festival. This celebration of community was dedicated to the memory of beloved community member Peg Johnston. 
Panasonic Connect and LUMA Use Digital Projectors to Bring Art to Life
As always, LUMA showed the creative power that's possible when art and technology come together. Panasonic's projection mapping technology enabled artists to tell their stories in a whole new way and, for one weekend, helped transform a city into an immersive testament to the power of imagination.
Photo Gallery