July 21, 2021
5 min read
As venues for live events and higher education institutions-open, we can't wait to help deliver the immersive experiences we've all been craving over the past year and a half. Our recent virtual event, Transforming Immersive Experiences with High-Performance Solutions, examined how live experiences – from immersive art exhibits to education – can be transformed into highly engaging, inspiring and memorable moments with the help of professional audio visual solutions. We loved receiving your questions and our experts had a lot of fun answering them.  We've summarized all of them below:
Lenses and Projectors:
Can the ET-D3QW200 short-throw lens be used with all 3-chip DLP projectors?
No, the ET-D3QW200 short-throw lens is only compatible with our PT-RQ50KU 50,000lm native 4K resolution projector.
Is the ET-ELU20 a short-throw or ultra short-throw lens? And how durable is the lens?
The ET-ELU20 is an ultra short-throw lens (0.330 – 0.353:1 throw ratio) with zero offset and power zoom functionality. This new lens is paired with the new PT-MZ880 Series 3LCD projectors. Viewers can approach the screen without casting a shadow, making the lens ideal for image projection onto passageway walls or other narrow spaces. The lens also has great protection against scratches and resistance to heat thanks to its mirror-less glass lens design.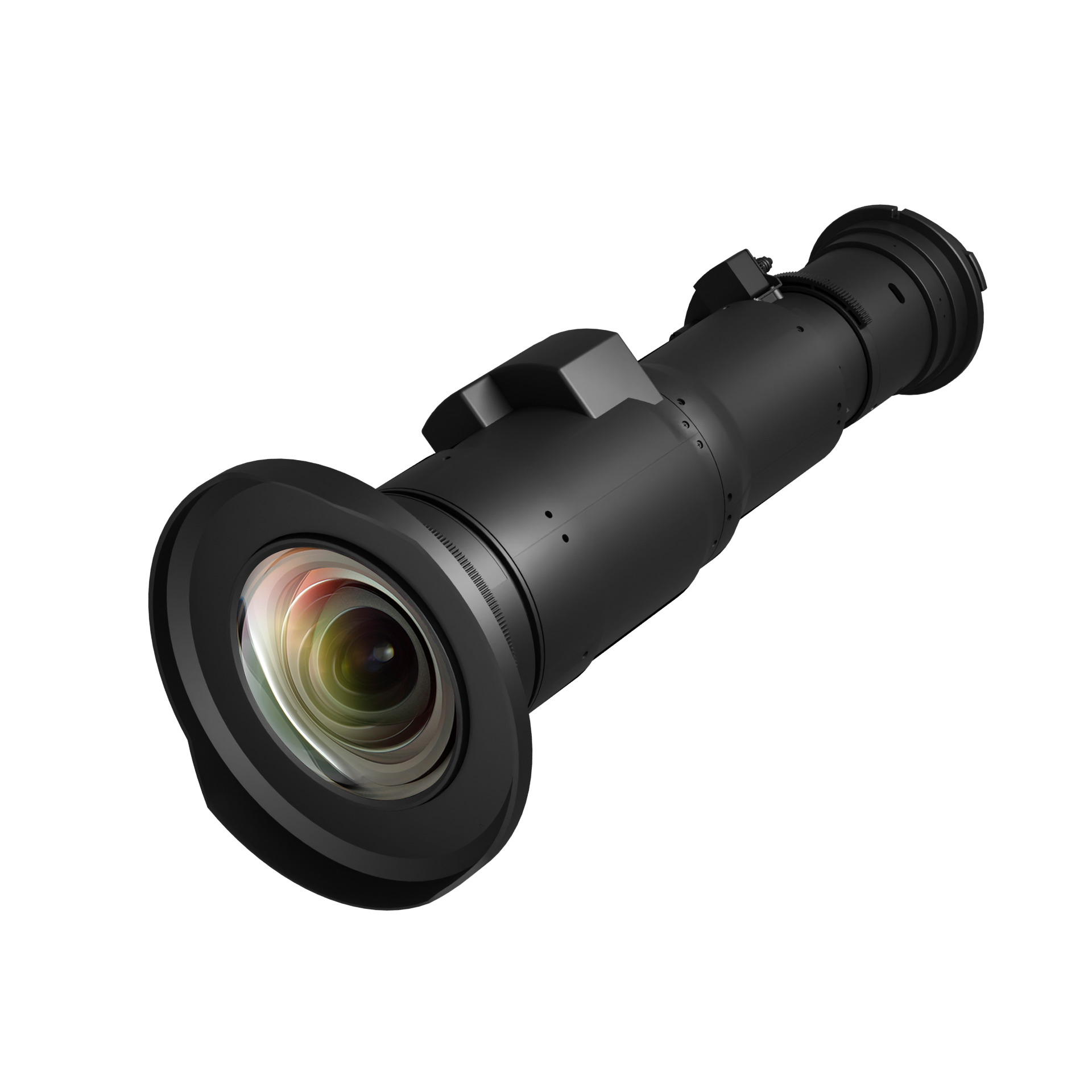 Can the ET-ELU20 lens be used with the PT-MZ770 Series projectors?
No, the ET-ELU20 UST lens is for use with the new PT-MZ880 Series projectors and is not backward compatible with predecessor models. 
Can the 1-chip DLP PT-RDQ10 Series produce 4K images?
By using 1-axis pixel-shifting technology with Panasonic's Smooth Pixel Drive, these projectors produce crisp, smooth, and richly detailed 4K (3840 x 2160, 16:9) images.
Does the PT-RDQ10 have Near Field Communication (NFC) functionality?
Yes, by using NFC technology and by holding an iPhone or Android device against the NFC touchpoint, you can change the IP/Projector ID and more without turning the power on.
What is the warranty on your projectors?
Three years P&L / Illumination Parts: 3 Years or 12,000 Hours (whichever comes first).
Does the software come bundled with the PT-RQ50KU projector?
Yes! Geometry Manager Pro software is pre-installed with the PT-RQ50KU. This software can be used for multiple screen set up and key features include its projector control, geometric adjustment for a grid up to 11 x 11, edge blending, color matching and brightness control.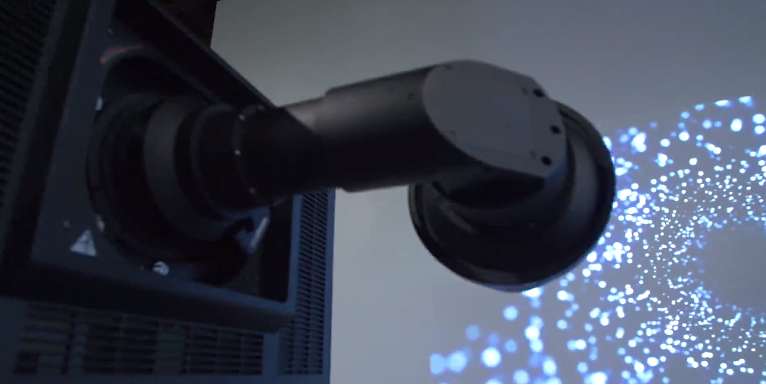 How many projectors are in the setup at Illuminarium? Will projection setup be scalable for different venues?
For Illuminarium locations at this time, about 50 projectors are used throughout the venues. This will vary depending on specific floor plans moving forward. The space and setup is fully flexible and can be updated at a moment's notice due to the flexibility of the projection solutions.
Can you talk more about fast tracking? How does it work? What hardware?
Panasonic's High-speed Projection Mapping and Live Tracking is an emerging technology solution that merges analog movement and digital content that is based on high speed frame rate, low latency output with sensing and IR motion tracking to expand creative possibilities for immersive, sensory experiences.  Projectionists can merge moving objects with projected content while the object's position is updated 240 times per second, allowing projected digital content to appear on and follow the object with unrivalled precision. This tracking software is compatible with Panasonic 4K laser projectors such as the PT-RQ35K and can also be used in conjunction with Panasonic ultra-short-throw and short-throw lenses compatible with 3-Chip DLP laser projectors. For additional information on Panasonic's High-speed Projection Mapping, please contact: 1-888-245-6344. Option 1
Can the PT-MZ880 Series of projectors be used in edge blending applications?
Yes, edge blending functionality opens choice in high immersion exhibition environments enabling edges of adjacent screens to be blended and simultaneous brightness control. Up to nine images (3 x 3) can be edge-blended to create large, multi-screen images. Our Geo Pro software makes edge-blending calibration and screen geometry adjustments easy.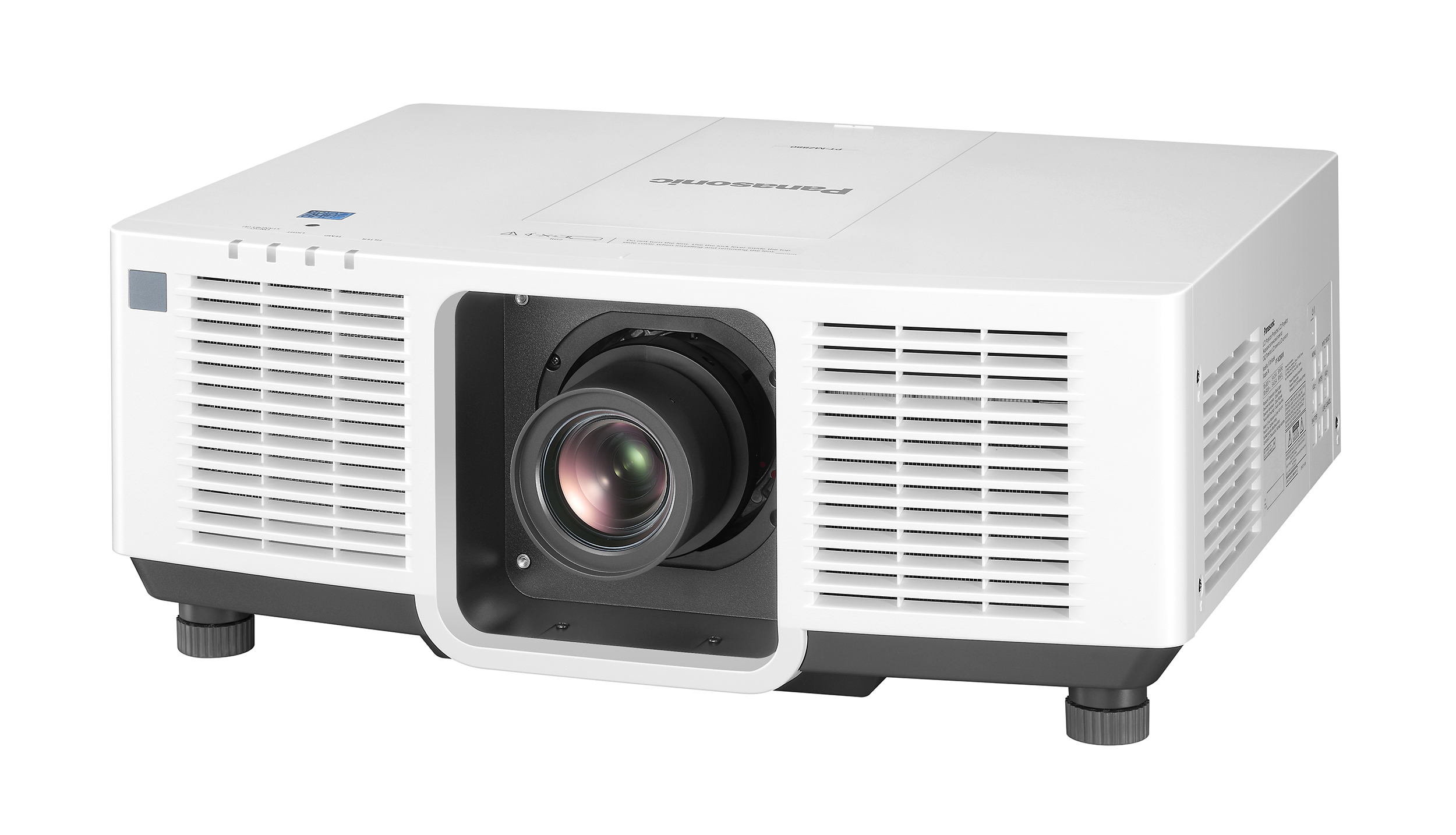 How does the PT-MZ880 Series accept 4K signal and what is the output resolution?
The PT-MZ880 Series supports uncompressed 4K/60p video-signal input via HDMI® or DIGITAL LINK terminals. The 4K signals are converted to the projector's resolution (1920 x 1200 pixels) upon projection.
Does the PT-MZ880 Series need to be used with a filter?
Yes, but the Eco Filter includes a Micro Cut Filter, which collects dust particles with an electrostatic effect. Together with the dust-resistant projector cabinet, the Eco Filter enables long-term use in dusty conditions with less downtime. Replacement is at about 20,000 hours and the filter can be washed and reused.
RGB lasers were all the R&D rage just a few years ago. But laser phosphor just got better and better. Is laser phosphor now the only game going forward for projection?
For longevity, form factor, color representation and show quality, Panasonic's 3-Chip DLP® technology is best suited, though we are tracking RGB laser technology and measuring any new developments.
Professional Video and KAIROS:
For KAIROS, what do you mean when you refer to "layers"?
Layers are similar to Photoshop where any video or still image source (internal or external) is an image layer. These can be stacked as a picture in picture or overlay using a key. Any layer or set of layers can be mixed in using a transition. This is similar to a mixed effect but many transitions can be available in one output "Scene."

If I use Canvas to create an ultra-wide output image can I use this to drive edge blended projectors, and can KAIROS manage the overlap?
Panasonic projectors can create a gradient at the picture edge and KAIROS can manage the overlap so no other hardware is required for edge blending creating a seamless and user-friendly experience specific to your production needs.
I already have a KAIROS system using the original KC100 Core. Which of these new features can I get without purchasing hardware?
The NMOS feature and IP Audio mixer are paid-for activation codes available for the KC100. The new streaming inputs and expanded canvas range are free software upgrades to version 1.1 available for the KC100. The additional layers and outputs for the KC1000 are coming from the new hardware.
Is KAIROS a switcher or a media server?
In the past switchers and multi-viewers used to be separate devices. Multi-viewers still exist but most switchers usually include one. KAIROS is a media server with a built in switcher or a switcher with a built in media server. We plan to pursue both directions.
Project Moonshot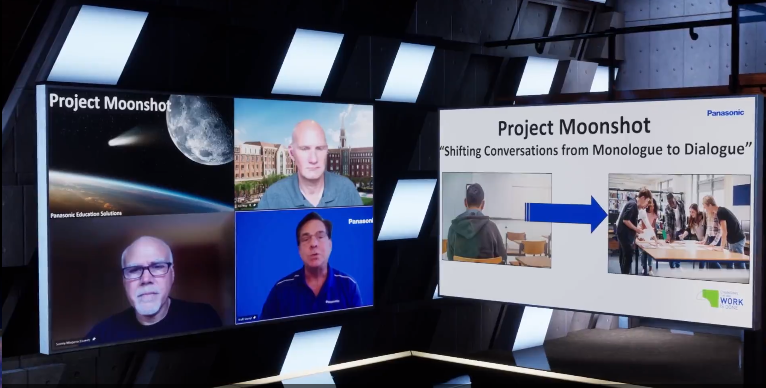 How do I sign up for Project Moonshot?
Project Moonshot is Panasonic's new innovative solution to create engaging and inspiring learning experiences. For more information, please contact:
Kara Lydon at 201-875-7220 | Kara.Lydon@us.panasonic.com (West Region) 
Maria Saldana at 862-241-8855 | Maria.Saldana@us.panasonic.com (East Region).
Didn't catch the event, or want to listen again? You can watch the recording here. Check out more information on our latest solutions for hybrid learning experiences and live events.