January 4, 2023
3 min read
In our latest virtual event on the new Panasonic Connect voice triggered presets for unified communication and collaboration, we addressed customer needs for enriched connected and collaborative environments. During the webinar, we received questions on how our new presets and solutions provide a more realistic in-room experience for remote attendees. Read on for answers.
Which of your PTZ cameras are Zoom Certified?
Our Pro Series (AW-UE4, AW-HE20, AW-UE20) and the AW-UE40 and AW-UE50 (from our Premium Series) are Zoom Certified.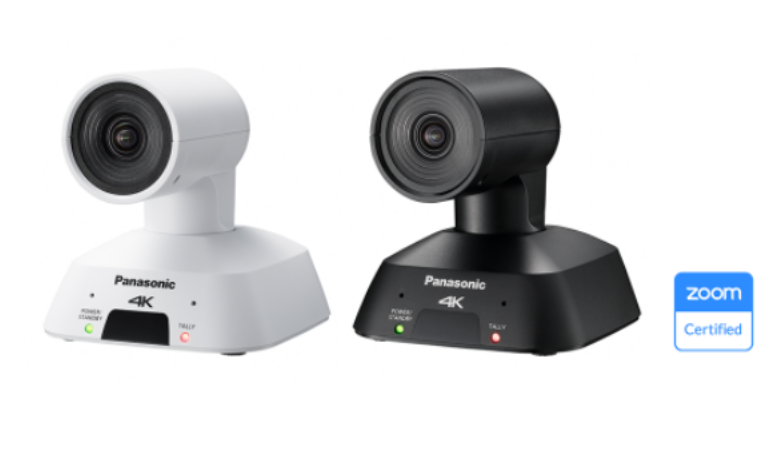 It would have been nice to have the PTZ line-up PDF in the Related content area?
The Panasonic PTZ camera line-up can be viewed here.
What is the link for the Panasonic Virtual USB Driver to use my Panasonic PTZ as a webcam? You can find the link here
Which of the PTZ cameras are TAA compliant?
The following PTZ cameras are TAA compliant: the AW-UE160, AW-UE150, AW-UE100, and AW-RP150 & AW-RP60.
You stated the PTZ Control Center is free, but is there a charge for the AW-SF300 Plug-in?
Yes. List Price is $1,595. Please contact your Panasonic TAM for additional details.
What is the URL/email address to submit PTZ Control center bugs?
For PTZ Control Center issues: Pro Video Support team at provideosupport@us.panasonic.com
Are all current Panasonic PTZ's compatible with the AW-SF300 Plug-in?
Yes. All Panasonic PTZ cameras are compatible with the AW-SF300 Plug-in.
What is the maximum number of wireless mics that can be used in 1 room?
A total of 48 Wireless Microphones can be used in one (1) room.
What is the current latency of the DECT based microphones?
Latency of the DECT mics from transmit to receiver is 15ms.
What Panasonic PTZ cameras can be used for Voice triggered presets?
All of our current line-up in the PTZ camera portfolio can be used.
Do you have wireless mics in stock?
Yes!  We can ship today!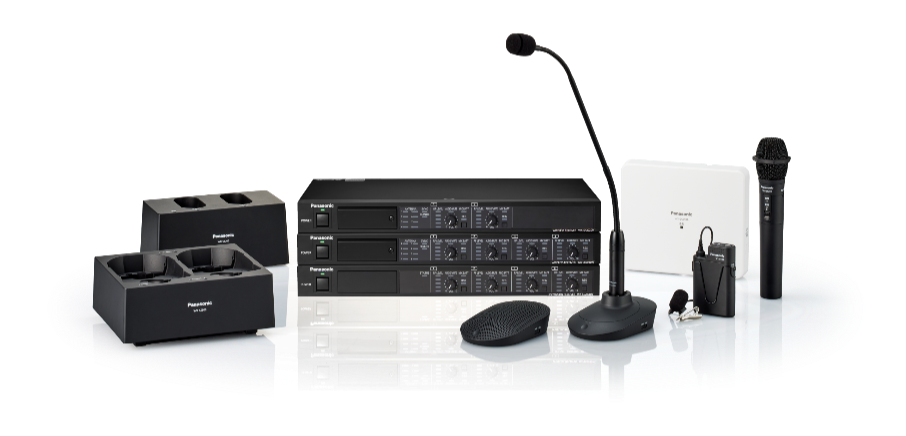 Can the PTZ Control Center be run from a mobile device (iPhone or iPad)?
PTZ Control Center can be run remotely on any Windows platform.
What happens when 2 people speak at the same time?
The software allows you to adjust the delay of the PTZ camera preset trigger so remote attendees don't get dizzy especially in a fast-moving meeting.  When the delay is longer and two people speak at the same time, it will trigger the preset to whoever it sensed first and then stay on that person rather than bouncing back and forth.
Does the PTZ camera software work with Mac iOS?
Currently, the PTZ Control Center works only on Windows platform but is being worked on a Mac IOS with our factory. The PTZ built-in web GUI can operate on Windows or Mac iOS.
When will Panasonic launch a ceiling mic?
We are currently working on some innovative features and of course, new products which will be integrated with Panasonic PTZ cameras, to complement our Professional Audio portfolio.
If two microphones have audio at the same time, can you create a wide shot preset?
Yes! Absolutely -- you can create a wide shot preset, or a Zoom preset!
How is current stock of some of these different solutions?  Months?  Or sooner?
We have inventory of Wireless Mics & PTZ for immediate delivery. Generally, our Projectors & Professional Displays run anywhere from 30-60 day lead times.
If you missed the event, click here to watch the replay.