December 27, 2021
4 min read
Instead of simply watching a show or looking at art, attendees today want to be a part of the event itself. Festivals and shows around the country are transforming events by creating immersive experiences where lights, images and sound work together to create an unforgettable atmosphere for each person. By using cutting-edge Panasonic projectors, event organizers are creating immersive environments that transform occasions into experiences.
This year, more immersive experiences than ever before left their mark on the cultural memory of 2021. Here's how these four immersive events used Panasonic technology to bring art and music to life.
NOW Art LA's LUMINEX Dialogues of Light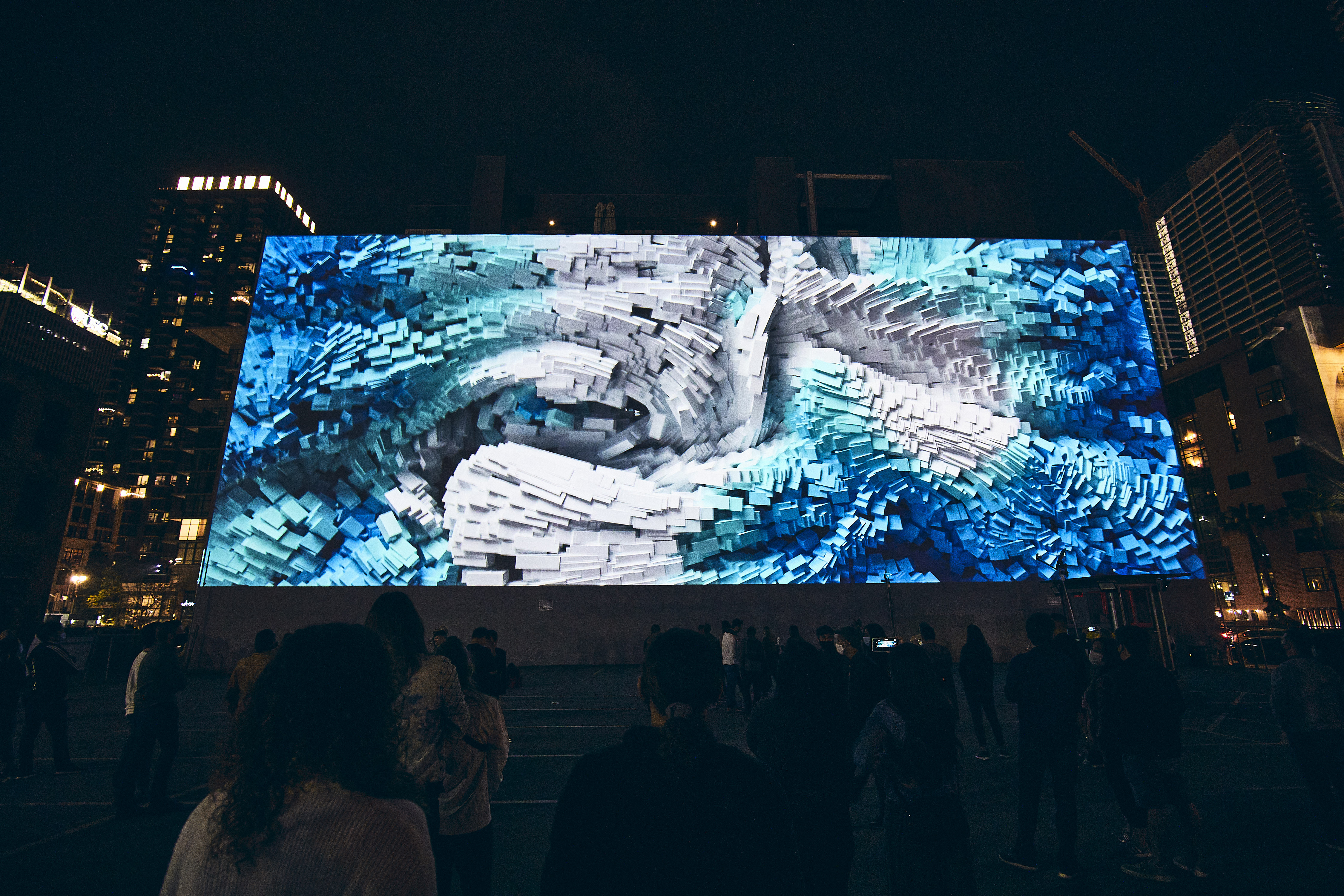 After a year of COVID restrictions, five blocks of the South Park district of downtown LA were transformed into a digital art gallery with six local artists showcasing their work. Powered by Panasonic unique projection technology, The NOW Art Foundation's public art exhibition, LUMINEX: Dialogues of Light beautifully immersed guests in an outdoor walkable experience   while at the same time illustrating the healing power of art.
Attendees could also use a QR code to download an interactive map and listen to recorded soundtracks to bring the art even more to life. For those that couldn't attend in person, live streaming brought the event into the living room of art lovers around the globe.
Event organizers turned to Panasonic's 4K projection technology to meet both budgetary and artistic considerations. Because of the ability to dial down to a granular level of color, the artists' work was displayed with the exact hues intended by the artists. When the budget didn't allow for a separate projectionist for each site, the organizers turned to software and hardware to handle the technical details from a laptop, such as color adjustments and the warp blend.
LUMA Projection Arts Festival
Tice Lerner and Josh Bernard started the LUMA Projection Arts Festival in 2015 to highlight the emerging arts scene in Binghamton, NY in a collaboration with artists, volunteers and attendees alike. As the largest projection mapping festival, the two-day event turns the downtown area into an interactive, immersive art scene, with local artists' work projected onto the buildings.
After struggling with unreliable lamp projection technology, the founders decided to partner with Panasonic for its projection technology in 2019. Using Panasonic's large venue 3-Chip DLP® SOLID SHINE laser projectors, the artists' work was displayed across 8 buildings with consistent color and high-brightness levels, which was key to overcoming any challenges caused by weather at the outdoor event.
The result – an incredible event that highlighted how design and technology can work together to showcase creativity. Over 55,000 national and international attendees showed up for the 2019 event and gave it rave reviews. Previously, the event required four days of intensive expert and volunteer hours to install the event. After moving to Panasonic technology, the festival is ready for showtime in three days. Additionally, the festival has decreased energy use, personnel hours and technical resources by partnering with Panasonic.
"Panasonic's technology and engineering support has given LUMA the ability to focus on our primary vision — telling stories from cutting edge artists," said Lerner. "We were able to develop a fully immersive, exceptionally visual experience for our guests."
Kansas City Symphony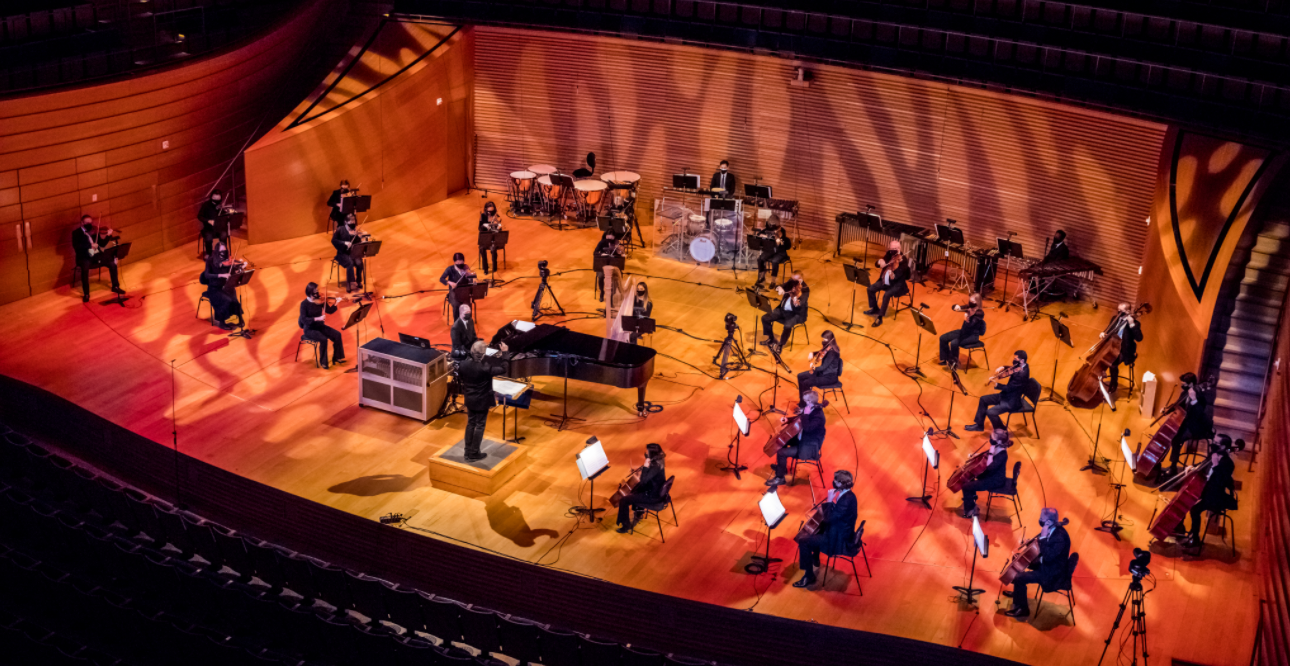 When the pandemic halted in-person concerts at the Kansas City Symphony, the Symphony began creating immersive experiences for audiences to participate in virtually from the safety of their own homes. Because Helzberg Hall's world-renowned acoustics was a signature of Symphony performances, replicating the in-person experience in terms of sound quality was a high priority.
By using Panasonic's PTZ camera system, the Symphony used 12 cameras to connect with the audience through both sound and sight . The wide-angle lens and 20X optical zoom allows the audience to see the musicians' fingering techniques, how they operate the valves and strings and the emotion on their faces as they perform on stage — without interrupting the musicians' flow.
Instead of letting the potential limitations of online-only shows hamper their reach, the Symphony used the move to online actually expanded its audience. The Kansas City Symphony now has a viewership of more than 3,000 subscribers to MySymphonySeat.org. Viewers also now get behind the scenes insight and knowledge through interviews and concert talks — recorded with a Panasonic AG-CX350 handheld camcorder and interspersed throughout the event.
"The compact design of Panasonic's UE150 PTZ cameras allow us to discreetly position them on stage and throughout the facility, giving the audience a closer view than they would normally be able to experience," said AJ Fager, technical director at the Kansas City Symphony. "Now, not only are we offering them a front-row seat, but we're also giving them a seat on stage and a completely new way to experience the Symphony."
Illuminarium: WILD: The World's First Virtual Safari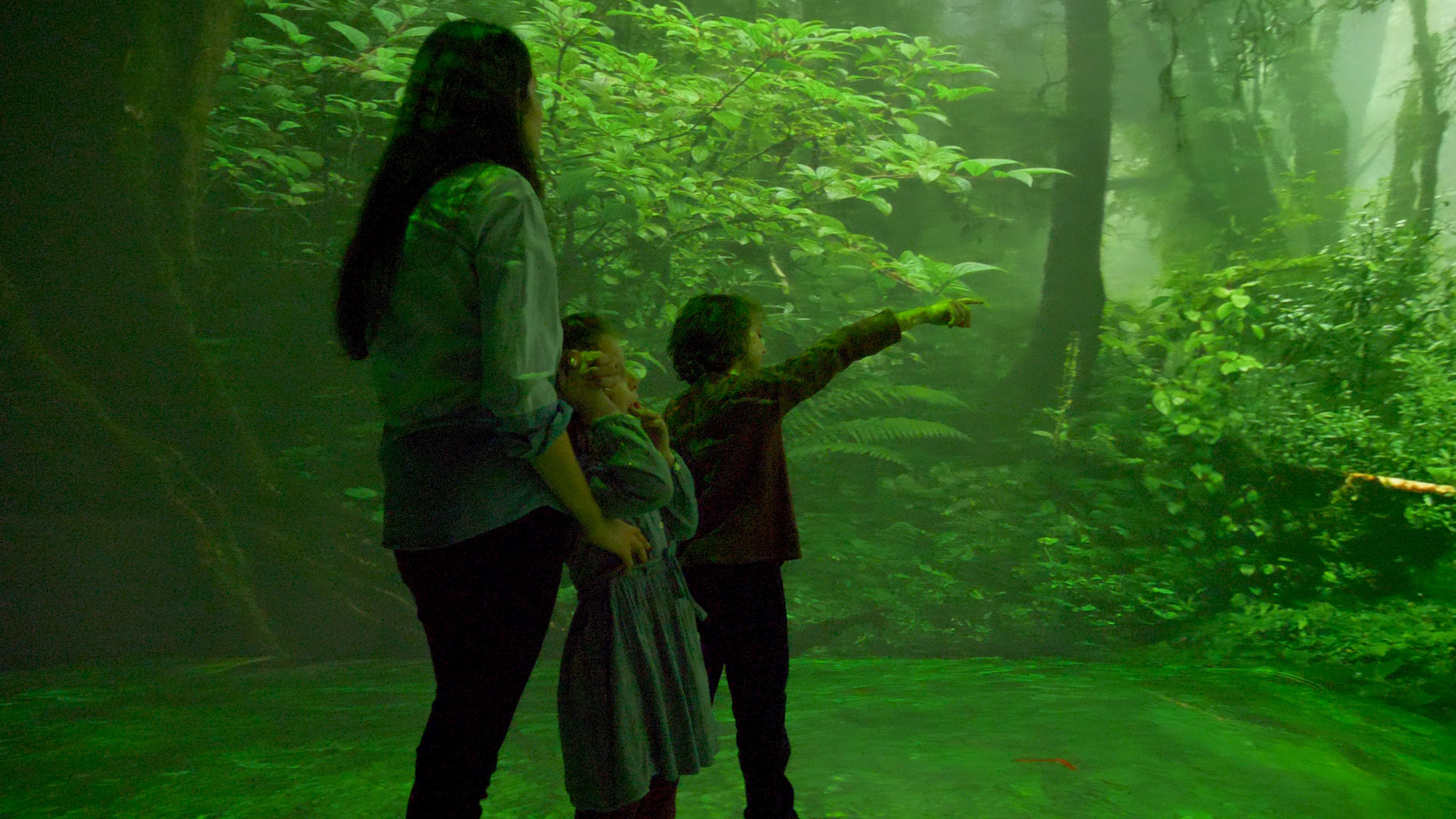 Through Illuminarium's reprogrammable immersive theaters, people can now experience places and events that would otherwise be out of reach for many — like a safari. Visitors experience sight, sound and scale in 360 degrees. At the first Illuminarium, Wild: The World's First Virtual Safari in Atlanta, visitors experience exotic animals in their natural habitat as they journey with the animals through different environments.
To create an experience where visitors feel like they are actually on safari, the 30,000-square-foot venues use Panasonic's advanced large venue native 4K laser projection technology, the Panasonic PT-RQ50k with 50,000LM brightness, 4K resolution and vivid color. Panasonic created a unique ultra-short throw lens with minimal offset and loss of light for Illuminarium that enhanced the immersive experience.
"You can think of it as a living museum," says Panasonic Live Events group manager Joe Conover. "You can go on a virtual safari. Like a virtual reality experience, without the goggles."
" width="100%">
By using cutting-edge Panasonic technology, event organizers and venue managers can take existing events to new levels as well as design new experiences for attendees. The audience expectations for events are now higher with visitors increasingly expecting immersive experiences at events and venues.