June 3, 2020
3 min read
Founded by the Order of Friars Minor in 1937, Siena College is a private Franciscan liberal arts college in Loudonville, New York. The college has 3,000 full-time students and offers undergraduate degrees in business, liberal arts and sciences. Like all colleges, they're using video to promote campus activities and events. Recently Siena College's Video Production Specialist David Etzler have been shooting with the AG-CX350 camcorder to promote the college via social media.
"I work in the college's Marketing and Communications and I'm tasked with shooting events, classrooms and labs," explains Etzler. "I was very comfortable with the camcorder format so wanted to continue in that direction. I needed a camera that was good for run and gun work but I had a number of other requirements so that's why I got the CX350.  I also wanted something that was good for audio and I liked the wide-angle lens (24.5mm), which helps me in my lab space since I'm usually crouched in small and weird spots.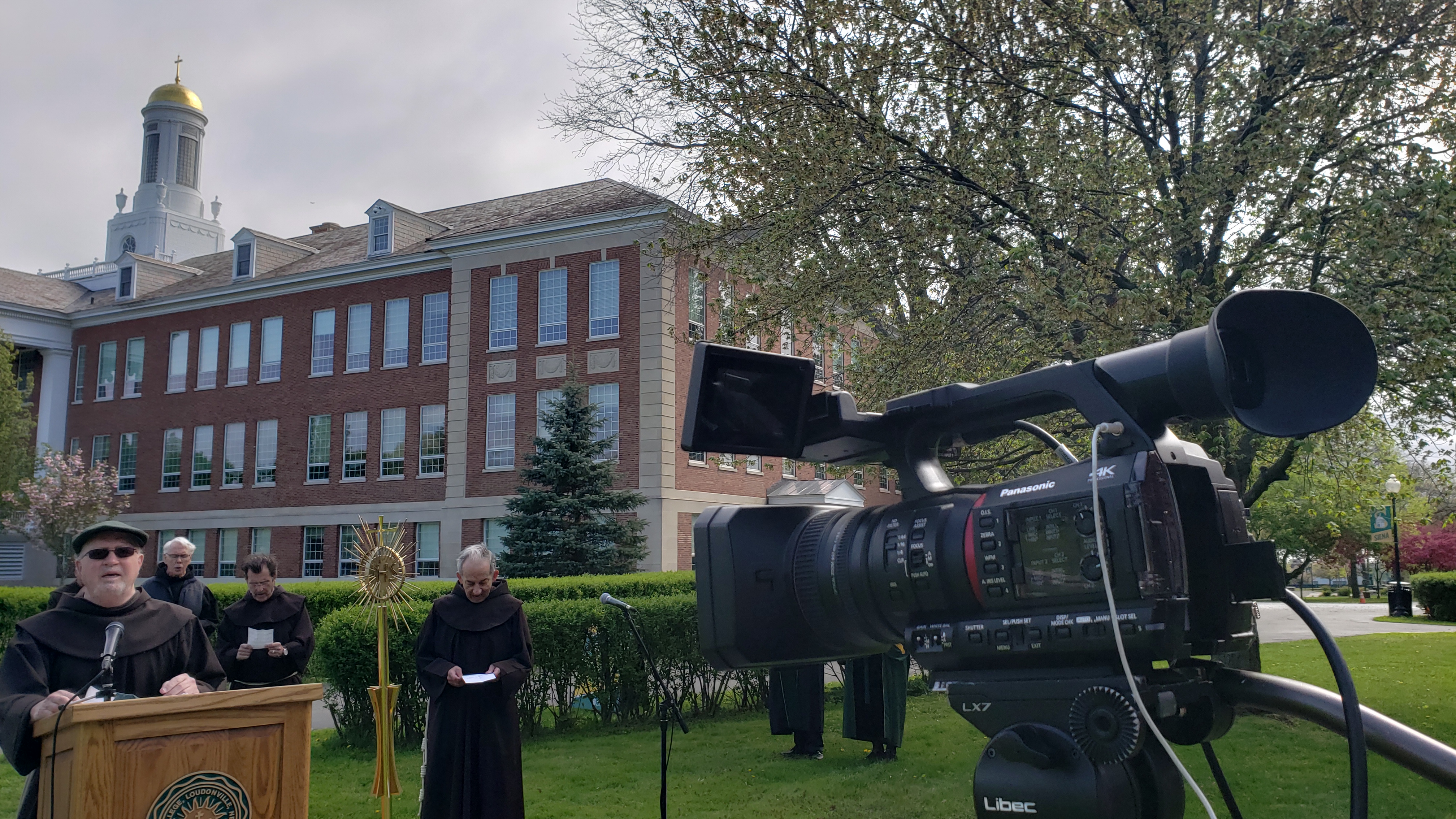 "The weight and image stabilization were also big factors," continues Etzler. "I've accidentally turned the O.I.S. off a few times during handheld shooting and you can really tell. On a day-to-day basis, I've shot run and gun at big events with a lot of people - back when we could do that sort of thing - and I would kind of just float around handheld and I thought the O.I.S. worked perfect because you can zoom in across the room and still have a stable image."
Until recently, the CX350 was primarily used for marketing purposes. For Etzler, live-streaming was a feature he thought might be a bonus if the situation ever came up. With the sudden closure of campuses across the nation to slow the spread of the COVID-19 pandemic, the situation was upon him. Etzler and Instructional Media Engineer Thomas Callan began prepping to livestream Siena College's 2020 commencement ceremony on the college's Facebook page.
Going Live
The commencement ceremony was filmed outside near a campus building because Etzler preferred a hard wired Ethernet connection. The Ethernet cable was connected to the CX350, which communicated with their laptop combined with the URL and server key entered in the menu. "Also, because that URL and stream key are now saved in the camera, at any point in the future, I can go live with the CX350 just by pressing a few buttons," explains Etzler.
"We had three microphones – one on the lectern for speakers and two mics on the outside to record 12 friars, who sang a benediction song for graduating seniors," reveals Callan. "We had a little audio mixer that all three mics came into and one XLR connection back to camera. It was all fed through the camera directly to Facebook."
For the look, Etzler used the Spark scene file, which is one of the six scene files within the CX350. Etzler feels when focusing on people, the Spark scene file is very effective. On Facebook, Etzler was limited to HD resolution (1280 x 720) but according to Etzler, people watching the live stream at home told him the quality was higher than previous years' commencement videos that were shot inside Siena College's arena. "All of our bosses were very impressed by the quality of the stream," says Etzler.
Watch Siena College's 2020 virtual commencement
Congratulations to the Siena College Class of 2020!
For more information on the AG-CX350, click through here.