September 30, 2020
3 min read
Challenge
Threaded Films, a boutique production studio in Chicago, IL, partnered with creative team, Project Adventure, and Twitch software developer, Warp World, for their latest film project. They quickly realized the need to modernize their studio to fulfill their goal of creating a new style of dynamic and interactive content. To meet the demands of the project, Threaded Films needed affordable yet feature-rich technology to be used in their home studio to boost creativity and execute a live production remotely—all while adhering to shelter-in-place mandates. 
Solution
Seeking a flexible yet comprehensive solution, Threaded Films integrated two Panasonic robotic AW-HN38 professional pan/tilt/zoom (PTZ) cameras into their production infrastructure to create high-quality, live-streamed and recorded content for their latest film project on Twitch. The PTZ camera's high sensitivity and high resolution captures quality video remotely and transmits it via high-efficiency low bandwidth NDI|HX data transfer.
Result
Threaded Films streamlined its remote production capabilities resulting in increased flexibility and scalability for their team, delivering a more visually engaging production without a high price tag. Threaded Films' project includes a lot of puppetry work—a form of theatre performance not seen on Twitch very often. In order to capture a scene, their previous studio setup would have needed a substantial amount of infrastructure to record one single shot. Since Panasonic's PTZ cameras support one-cable solutions via Power over Ethernet+ (PoE+), their crew no longer needed to deal with multiple cables. Due to the cost-effective PTZ cameras, Threaded Films has eliminated the need for complicated electrical wiring, reduced installation costs and simplified their deployment, saving time and money.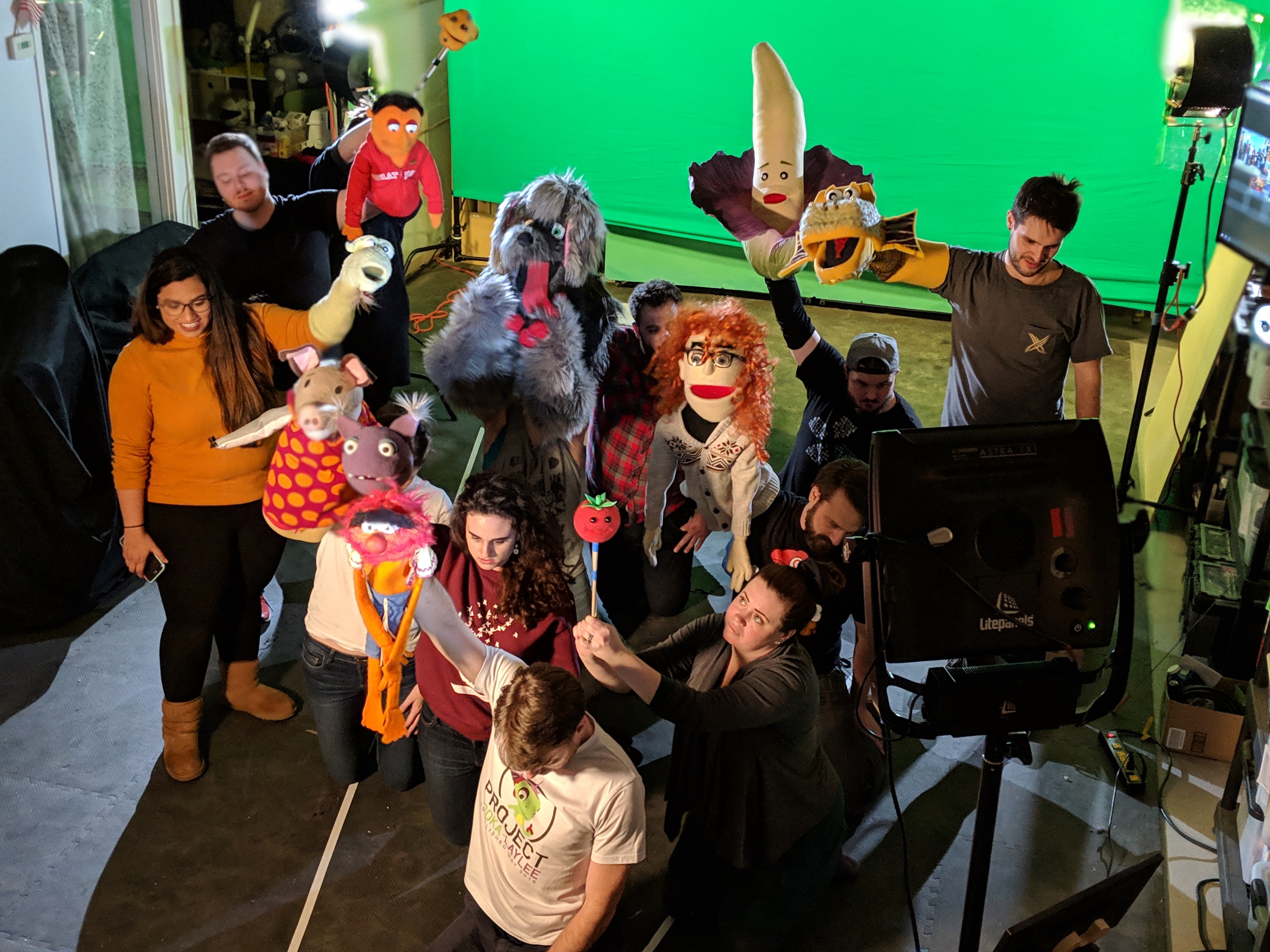 PTZ Cameras Enable Thread Films to Achieve New Levels of Interactivity
From long-form films to 30-second commercials, the art of filmmaking is at the core of Threaded Films' business. For the last decade, their crew has produced content for names including Marvel, Honda and ESPN. In early 2020, Threaded Films worked on original interactive content for Twitch that would enable viewers to be a part of the show's experience. When the global pandemic hit and new social distancing measures were put in place, their ability to produce content was halted. To continue production for its upcoming show, Threaded Films knew the team needed to execute a live production in a remote setting without sacrificing video quality. To accomplish this, they turned to Panasonic PTZ cameras.
"We were trying to bring a different style of entertainment to the world of streaming on Twitch, meaning we were aiming to produce content in a form that could be characterized as traditional film or like a live TV show," said Ross Gerbasi, co-owner of Threaded Films. Under pressure to keep projects moving and to meet production deadlines, Gerbasi engaged with Panasonic to identify Threaded Films' creative and operational needs. "To create a modernized production studio, we needed to come up with creative ways to solve problems on an indie-streamer-style budget," Gerbasi continued. "PTZ cameras were the creative solution we needed, opening up our eyes to another world of infrastructure that we didn't know existed."
Incorporating two Panasonic AW-HN38 PTZ cameras into Threaded Films' production studio infrastructure offered their team many benefits with zero downsides. Thanks to their precision 22X optical zoom lens, wide field of view, smooth PTZ functions and exceptional image quality, the HN38 cameras allowed Threaded Films' crew to capture dynamic and interactive content, while meeting their creative visions.
With premium image quality and video capture features including 22X optical zoom, Threaded Films' production team can now live stream high-quality content to thousands of viewers on Twitch. "It all started from the eye-opening experience of hearing what technology Panasonic is already investing in. They may not have been able to predict that we'd be faced with social distancing, but they did see the need for distributed production studios."
Threaded Films' new infrastructure coupled with Warp World's interactivity software tools and extensions for Twitch offered their audience a completely reimagined and unparalleled viewing experience. "Viewers become a part of the story, giving them the option to choose their own adventure through specific interactions," said Gerbasi. Additionally, Gerbasi described the PTZs as, "another physical tool" for Warp World's applications developers to tinker with and create new apps due to the "easily modifiable API."
Utilizing both the PTZ cameras and Warp World's Twitch extensions, Threaded Films was able to create and capture dynamic and collaborative content live and remotely in a flexible setting that offers their viewers an interactive experience never before seen on Twitch.