August 3, 2022
5 min read
As more young people than ever decide not to sign up for further and higher education, colleges and universities look for ways to bolster their numbers. Could the answer lie in video games? Esports have captured young adults' imaginations — and they might just be the next recruitment and retention tool for academia.
Understanding Esports
Esports takes video gaming to the next level by turning it into a professional, competitive event. It has been around in some form since the mid-seventies, when players of cabinet-based arcade games and early home gaming systems played against each other in competitions often sponsored by the game publishers.
Early video gaming competitions were relatively niche affairs, but as home gaming grew and internet connectivity spread, so did interest in gaming. Multiplayer games prompted more people to take part remotely, and competitive events gained increasing traction as video game revenues grew.
Esports has spread its reach even further in the last decade thanks to the launch of streaming services like Twitch, which has become a popular platform for broadcasting competitions online. It has gained its own critical mass, too, with the creation of franchised leagues, similar to those seen in conventional sports. Now, some players are paid a salary to train and compete. Esports has finally gone pro.
Gamers Turn Out in Record Numbers
Esports has gained impressive traction among audiences. Industry watcher NewZoo saw an 8.7% growth in esports audiences in 2021. The company expects the audience to reach 532 million by the end of 2022 and 640.8 million by the end of 2025, representing a CAGR of 8%.
Even single events attract largely younger audiences in droves. In November 2021, over four million people watched the 2021 World Championship for League of Legends.
As esports moves into the mainstream, traditional sporting events are increasingly willing to acknowledge it. The Commonwealth Games is piloting an esports event in 2022 to make it an official addition to the games in 2026.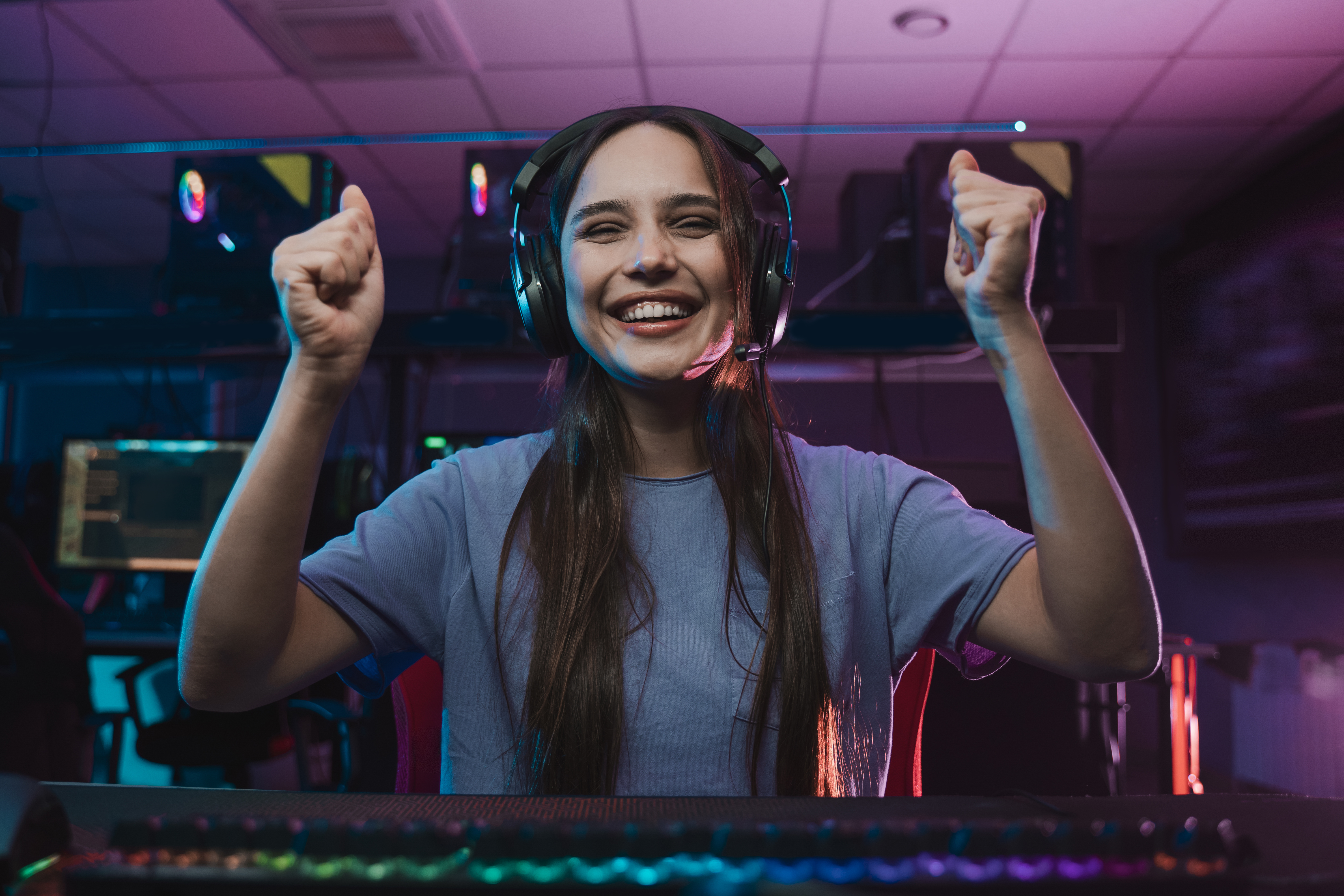 Esports as a Recruitment Tool
Esports audiences are overwhelmingly young, with 28% of enthusiasts aged between 10 and 20, and another 46% aged between 21 and 35, according to NewZoo's data. This demographic makes esports a perfect recruiting ground for colleges and universities.
As enrollment for further and higher education has dropped, academic institutions need to connect to next-gen students. The National Student Clearinghouse Research Center noted a 4.7% year-on-year drop in undergraduate enrollment during spring 2022. This is part of a continuing decline that has seen the undergraduate student body shrink by almost a tenth from pre-pandemic levels.
College involvement in traditional sports has had a positive effect on college enrollments, especially following an impressive college sports performance. Now, the same institutions are hoping that esports will have a similar effect, drawing students back to the fold.
Collegiate esports has ballooned over the last few years. When the National Association of Collegiate Esports (NACE) began in 2016, there were just seven colleges and universities with programs. Now, it numbers over 170 of them with over 5,000 student participants.
How to Create a Successful Esports Program
Any college or university can build an esports program. Some of the most important aspects of an esports initiative are cultural and academic.
Consider diversity
Diversity is important in any academic initiative, and women are traditionally underrepresented in STEM-related endeavors. NewZoo found that just one-third of dedicated esports enthusiasts are female. Your messaging should welcome and encourage all participants.
Make it about community
Video gaming shouldn't just be about staring at a screen. These days, it's a team sport. Coaches should foster the same values that you'll find in conventional field sports, including integrity, community, pride and mutual support.
Integrate it with your academic programs
Esports programs offer perhaps even more opportunities to integrate with other academic programs than traditional sports. It can be folded in with creative programs ranging from photography to digital production and animation, enabling non-esports students to participate in the production of esports events.
You can also link esports with other academic disciplines, including business. For example, Florida Southern College has a minor program in esports management, complementing its collegiate esports program.
Consider your space
A simple spare classroom and some fluorescent lighting are enough to get a basic esports club going, but the more you invest in this space the better, especially at the college and university levels. Flashy graphics are part of the gaming experience, and a space that echoes this ethos will help attract students to an esports program. Consider decking out your space with a dedicated team logo and subtle LED lighting. A few gamer chairs wouldn't hurt, either.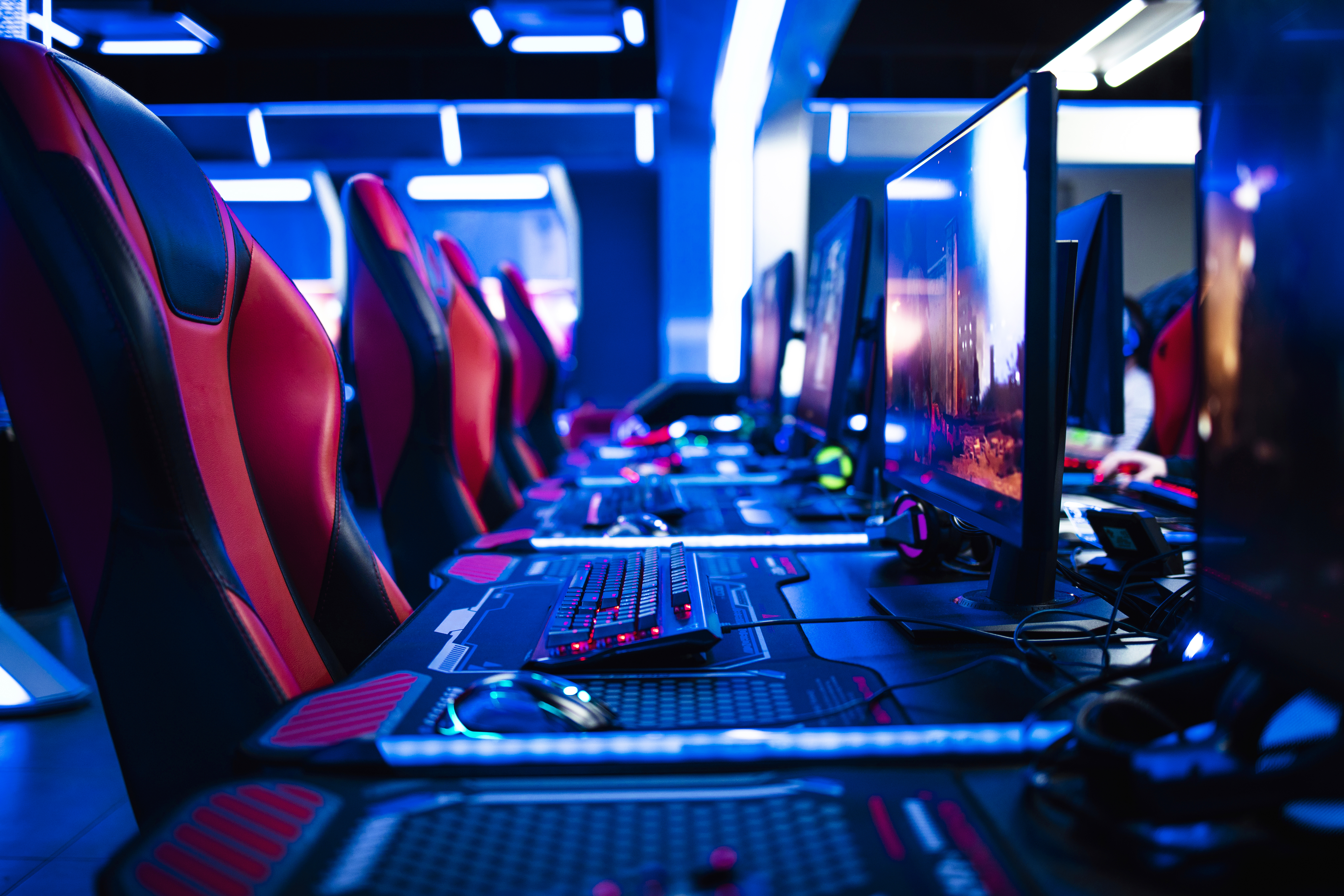 Choosing the Right Technology for Your Esports Program
Building an esports program doesn't have to cost a lot, especially for institutions on more limited budgets that simply want to engage students. You can scale up your investment as you grow more confident in making your esports program a professional event. Here are some things to consider when building out your dream infrastructure.
Networking
The data communications infrastructure supporting your esports team is key. Look for low-latency, high-bandwidth networks. A gigabit local area network is advisable, but a 10Gbit/sec network would be best to support low-lag gaming.
Gaming PCs
At the very least, you'll need gaming-level PCs with the appropriate graphics capabilities, which generally means discrete GPU cards.
Monitors
Gaming monitors must be relatively high performance, and those displays in the computer lab likely won't cut it. Consider resolution, refresh and response.
1080p is a minimum resolution for modern gaming, and ultra-high-definition 4K is better when you get to the professional level. The refresh rate is how often the image refreshes on the screen. 120Mhz is the minimum here. Response time ⁠— how long it takes to see a change on your monitor ⁠— is another key metric to avoid lag. Keep it below 3ms.
Digital signage
Spectators in your esports space will want to watch the game. Consider large-format displays to show them what's going on. Depending on your budget, you can go from a Panasonic professional display to a full-blown video wall. This needn't just be an investment in esports. Tie it into a large presentation room or a library for dual-use.
Audio
There are several aspects to esports audio.
For example, the host of your esports event needs to keep the commentary running and the audience engaged. Be sure that they're heard with a digital wireless microphone that will enable them to move around the room.
You'll also want to get this audio to your audience. Consider large room-scale audio speaker systems that will keep sound bright and crystal clear for everyone.
Video
Vision is everything in esports. That goes beyond beaming what's on a player's screen to a large display. The audience will want to see the players themselves, along with the host. Consider a point, tilt, and zoom (PTZ) camera that can follow the action in the room.
Bring it all together
If you really want to take your esports to the next level, consider a full glass-to-glass video processing platform that will help you control your AV workflows, turning your esports events into professional-grade livestreaming experiences. That will enable you to beam broadcast-quality events beyond your physical esports room to cyberspace, where it belongs.
Panasonic Connect has technology solutions for all kinds of esports events, from the simplest college team through to the HyperX Esports Arena in Las Vegas. You can start small as you gauge your students' interest in this exciting field of competitive play, and scale up to the big leagues. Play it right, and you might just see your enrollment figures grow at the same time.