November 16, 2022
3 min read
More Than a Museum: Immersive, Educational Resource Showcases World War II's Impact on America
As a former United States Marine, it has always been important to me that people understand the deeper story of the warfighters on the frontlines and the civilians they are protecting. Freedom is a privilege we're afforded because of the brave people who choose to serve our country.
The generation who fought in and was affected by World War II continues to age, and educational institutions and museums alike are looking for new avenues to tell the history of the war in a way that will make an impression on younger generations. In order to reach new audiences, the leaders at The National WWII Museum in New Orleans, LA, have developed a unique sound and light experience that brings to the forefront personal accounts from American soldiers who served in the war and those who contributed to the war effort on the Home Front.
"We wanted to celebrate individual stories from wartime in an inventive way," said Bob Farnsworth, senior vice president, Capital Programs, The National WWII Museum. "We wanted to help people understand how the history of World War II is still relevant today by using a new medium that would appeal to audiences of all ages, but especially engage younger audiences who are driven by visual storytelling."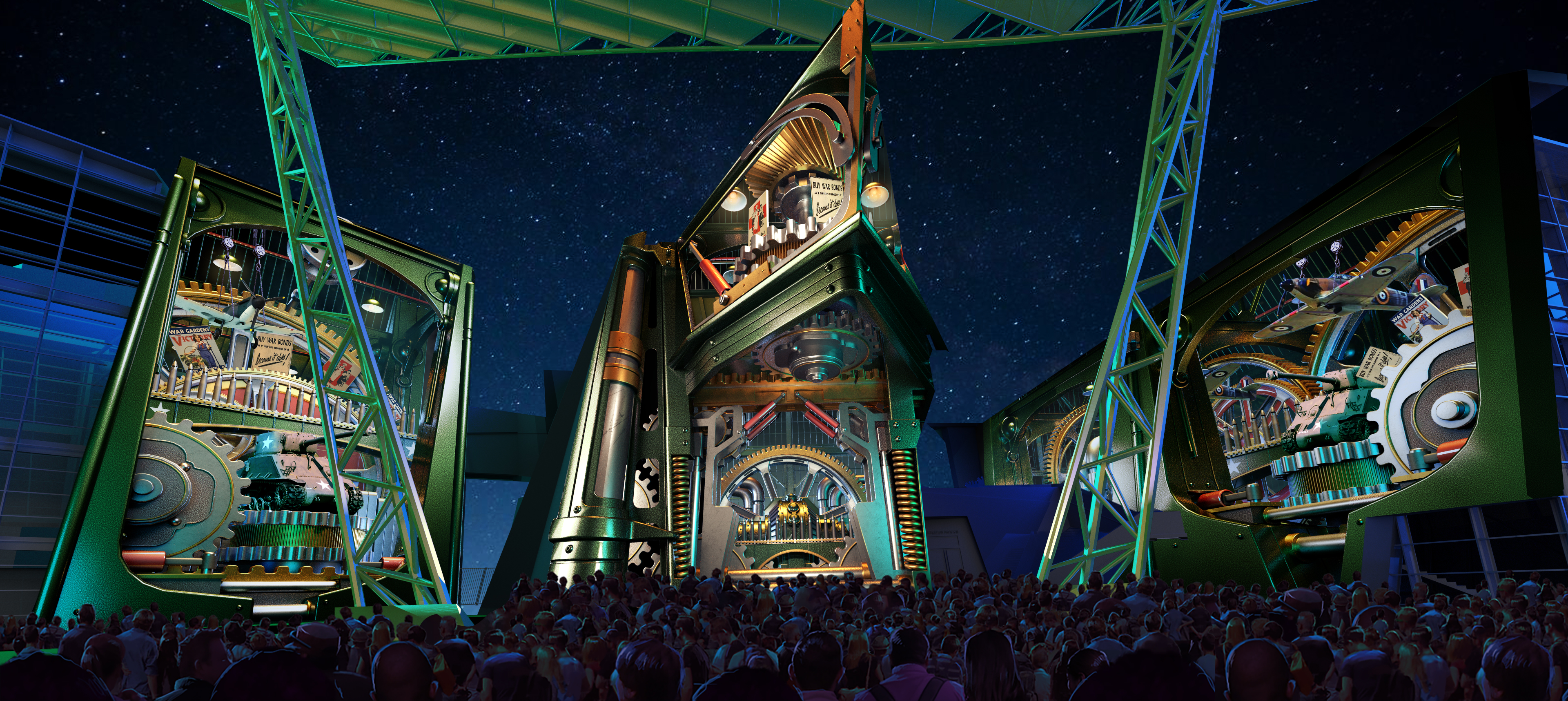 Expressions of America, held on the museum's Colonel Battle Barksdale Parade Ground, is a new projection mapping experience that brings history to life with vivid imagery and sound through the power of Panasonic's projection technology. The venue's unique architecture of individual pavilions, some 90 feet tall, underneath a 150-foot canopy, allows guests to congregate outdoors to view towering projections that transport them back in time. The exhibition's design, coupled with Panasonic's projectors, fully immerse guests in written words, songs, and personal reflections of the WWII generation.
Eight total projectors including six PT-RQ50KU laser projectors, one PT-RQ22KU laser projector, and one PT-RQ32KU laser projector across the buildings' rooftops and at the base of the venue, transform the Museum campus into an immersive exhibit that engages from every angle.
On Veterans Day evening, more than 700 people gathered to experience the real-life stories of people who lived through World War II. On this day of remembrance, Expressions of America honored the people and families who contributed so much of their lives to the war. Panasonic's cutting-edge projection technology helped bring these stories to life, giving guests of all ages a look inside the power and purpose of everyday Americans throughout this deadly war and its aftermath. These stories will continue to live on for decades to come through the power of immersive storytelling.
As a veteran myself, it's extra special to me that the museum has found an innovative medium to share the story of so many who sacrificed so much in World War II. Expressions of America is a stunning portrayal of a dark period of our world's history, but brings these stories to life in a way that I know will resonate with the museum's visitors and make an impact on generations to come.
For more information on The National WWII Museum, visit: https://www.nationalww2museum.org/
For more information on Expressions of America, visit: https://expressionsofamerica.org/about/