July 8, 2020
5 min read
During our latest virtual event, Innovations in AV Technology, we addressed customer needs across numerous industries including education, corporate and live events settings. During the webinar we received questions on how our new AV solutions, launched at InfoComm Connected, function to optimally assist every stage of the customer journey. Read on for answers.
On Cameras
Question 1: In the environment we are currently in, how are Panasonic PTZ cameras supporting this new "normal?"
Answer 1: We have a lineup of streaming PTZ cameras to support various workflows such as distance learning. For example, the new AW-UE100 supports SRT (Secure Reliable Transport), which isan open source video transport protocol that allows you to stream over the public internet in a more secure way.
Q2: How does the AW-UE100 compare to the other PTZ cameras [AW-UE4 and AW-HE38] in the lineup?
A2: Compared to the other cameras in the lineup, the UE100 is the most versatile when it comes to streaming due to its high bandwidth NDI, as well as high efficiency NDI for low latency streaming. Its SRT and RTMPS features also help with high-quality, stable transmissions.
Q3: Do all of your PTZ camera offerings support streaming?
A3: Yes, all of our PTZ cameras support various streaming protocols.
Q4: Can the PTZ cameras be used for Zoom, Skype or MS Teams?
A4: Yes, we have a free virtual USB plugin that allows our PTZ cameras to be viewed as a USB camera while on the network and can be supported with these various platforms.
Q5: Do your PTZ cameras have audio input?
A5: Yes, our PTZ cameras do support audio input in the form of mic/line in.
Q6: How will the AK-HC3900 up-convert its HD images to 4K when the upgrade is released?
A6: The AK-HC3900 uses a 4K imager so that the 4K upgrade simply changes the workflow to deliver 12G HD-SDI all the way to the CCU outputs.
On Projectors
Q7: What are the biggest differences between the PT-RQ35K and the PT-RQ32K projectors?
A7: The PT-RQ35K features a new multi-laser drive engine, is 60% the size of the PT-RQ32K and is nearly the same size as the 20Klm PT-RQ22K. The compact design, new technology and features such as NFC and Remote Preview simplifies and supports efficient workflow.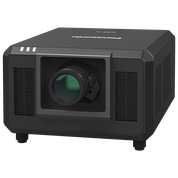 Q8: How does the PT-RQ35K picture quality compare to the PT-RQ32K?
A8: The PT-RQ35K combines blue and red laser technology that creates vivid reds and truer blues as well as a 114% wider color gamut versus the blue laser in the PT-RQ32K.
Q9: Does the PT-RQ35K need to be used with a filter?
A9: No, the PT-RQ35K 3-chip DLP laser projector is filter-free thanks to a dust-proof design that has been optimized for reliable 20,000 hour operation.
Q10: Will the new PT-FRZ60 Series projectors be compatible with the PT-RZ570 ceiling mount brackets?
A10: Yes, the PT-FRZ60 Series cabinet design and mounting design will be the same as the PT-RZ570.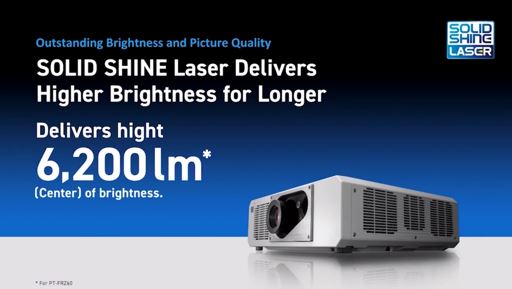 Q11: What is the output resolution based on 4K/60p signal input?
A11: 4K signals are converted to the projector's resolution (1920 x 1200 pixels) upon projection.
Q12: What is the difference between the PT-LRZ35 and other DLP laser projectors?
A12: The PT-LRZ35 uses discrete R/G/B LEDs that does not utilize a color wheel. The wheel-less design reduces color breakup and a rainbow effect is virtually non-existent.
Q13: Does dust enter the projector?
A13: The PT-LRZ35 Series' DLP technology supports a filter-free design with a sealed optical unit and dust-resistant cabinet.
Q14: Can the PT-LRZ35 Series projectors operate continuously?
A14: The PT-LRZ35 Series can deliver continuous 24/7 operation.
Q15: What is the PT-LRZ35 Series warranty?
A15: The warranty on the PT-LRZ35 projectors is 3 years or 20,000 hours. Whichever comes first!
Q16: What is the throw distance on the PT-LRZ35?
A16: With a 1.3 zoom lens, the throw ratio is 1.27 to 1.67.
Q17: Is Geometry Manager Pro software available for use with the PT-RQ35K?
A17: Yes, this software can be downloaded and is pre-activated for immediate use, which significantly reduces setup time.
On KAIROS
Q18: What kind of video routing system is KAIROS compatible with?
A18: KAIROS is compatible with any SDI or HDMI routing system, but when utilizing an SMPTE 2110 IP network, routing can be managed by the same off-shelf IP router without a separate router, regardless of how many end points are required.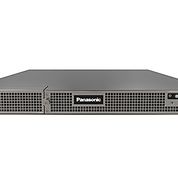 KAIROS Version 1 will be released as a custom, AV Rack-friendly, 1RU server with software loaded 
Q19: Is it possible to run the KAIROS system remotely?
A19: Yes, as long as the KAIROS creator application can attach to the KAIROS core through a LAN or WAN, multiple viewers can stream to the operator's location.
Q20: Can KAIROS control the Panasonic PTZ camera family?
A18: Yes, PTZ control is included in the KAIROS creator GUI.
On Displays
Q21: Why has Panasonic adopted SDM rather than OPS in its professional displays?
A20: SDM is the latest specification from Intel designed to support smaller physical size modules and to address higher data speeds and resolutions. It was the best choice to future proof our displays.
Q22: You mentioned a color universal design on the BQE1 display. What is that?
A22: The BQE1 has the option to modify the color palette to aid those with color vision deficiencies. This mode introduces a palette with colors that can be distinguished for people with certain types of deficiencies.
Q23: What about PressIT is different than some of the other types of wireless presentation systems on the market?
A23: With PressIT, there is no need to join a wireless network. There is no software to install or executable file you need to run to use it. Additionally, video transmission of 1920 x1080/60p is supported.
Click here to watch Panasonic's virtual event.